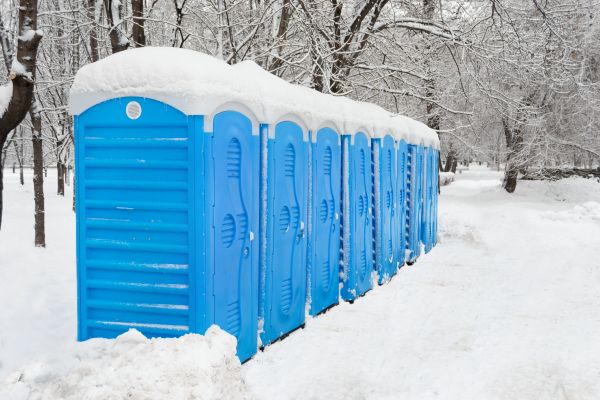 Winterizing portable restrooms in cold climates is necessary for each unit to function as intended, as well as for ensuring the comfort and safety of anyone who might use them. When the temperature drops, you need to make sure the portable toilets at your jobsite or event space are prepared to withstand freezing temperatures. Learn how you can guarantee a positive portable toilet experience for all, no matter the temperature, with these winter porta potty tips.
How to Winterize Your Portable Toilets
The process of winterizing a portable restroom is something everyone who manages events or construction sites in cold regions should be aware of. Temperatures are rarely below freezing long enough to harden the wastewater in the South and Southwest, but people in Northern states, the Midwest, or Canada should confirm that winterizing portable toilets is part of their rental agreement in the winter season. ASAP Site Services will winterize your portable restroom rentals for a fee of $30 per unit.
Our number one tip to keep your porta potty from freezing is to have us deposit a chloride pellet mix into the toilet bowl with every servicing. These pellets act as insulation and can withstand temperatures as low as -25 degrees Fahrenheit. Chloride pellets have a lifespan of about a week, so if you haven't requested more frequent service beyond the weekly visit included in the base price of your rentals, we'll be sure to add them to the bowl every time.
Winterizing portable restrooms can be a challenge if you're in a climate that routinely experiences temperatures lower than -25 degrees Fahrenheit. You'll need to take extra precautions to make sure the chloride pellets are effective. Start by thinking strategically about where to place your porta potties at your site. By positioning each unit away from direct wind, placing their backs against a wall, and adding sandbags to the base, one can reduce the chances of winter winds freezing the water.
In addition to taking the previous steps, our team will keep your rental units' wastewater from freezing by placing antifreeze in each tank. For more information on how our team utilizes antifreeze in portable restrooms, take a look at our FAQs page.
Ask ASAP Site Services
With these helpful winter porta potty tips at your disposal, you can rest assured that your portable toilet rental will be functional no matter how cold it gets. If you have any further questions about renting and using porta potties in harsh conditions, please let us know.