You may not realize how much there is to know about porta potties until you need to rent them yourself. How many different kinds of porta potties are there? How much do they cost? How many will you need for your project? Where else are they helpful besides festivals and construction sites? If you're asking any of these questions, ASAP Site Services has the answers—we're not only the best and most affordable sanitation solutions provider in the country but also the most reliable source of porta potty rental information.
Our porta potty rental resources cover a wide variety of topics that will help you choose the right products for your purposes. You'll learn how to determine the number of units you should order, how to provide proper ADA accommodations, and why portable toilets are beneficial for weddings, sporting events, emergency situations, and more. If you're looking for certain information about portable toilet rentals that you can't find among the resources below, go ahead and give us a call. A member of the ASAP team will be happy to tell you whatever you need to know for your project to be a success.
Whether you're planning an event or setting a construction crew up for success, it's critical to make informed decisions all the way down to the nitty-gritty details. Figuring out just how many portable toilets to rent for your site may not be the most glamorous part of project management, but it's one of the many logistics that must be attended to in order to keep your event or construction site running smoothly.
The cost of a portable toilet rental unit in one location may be significantly different in another, even if they're in the same city. Totals depend on each customer's specific needs and preferences as well. Read on to learn more about the various factors that will determine the porta potty rental prices for your next order.
Read answers to frequently asked questions about portable toilet rentals and learn about how to place an order, where to place your portable restrooms, what is included in sanitation servicing and more.
Portable Toilet Rentals for Events
Construction Porta Potties
Industrial Portable Toilet Rentals
Whether it's a private gathering or a public event, portable toilet solutions are essential for keeping a clean and sanitary space where standard plumbing fixtures are not available. Portable toilets, hand-washing stations, and proper sanitary services keep your site clean. Learn more about best practices for renting portable toilets for events.
Working on construction projects is tough enough already, so you shouldn't have to work even harder to set up easily accessible porta potties for construction projects. Whether you're on the 40th floor of a brand-new downtown high-rise or at the ground level of a home renovation, your construction job site may have porta potty rental needs. Get more information for your next project.
Because industrial jobs can be incredibly demanding both mentally and physically, it's important to make life around the worksite easier for employees. One thing that can make a job site more comfortable and accommodating for your crew is a conveniently placed industrial porta potty. Get more information about how to best choose rental facilities for your next project.
Portable Toilet Rentals for Weddings
Government Porta Potties and Sanitation Solutions
There's a lot that goes into planning a wedding, and when the big day finally comes, chances are good at least a few things won't go exactly right—under no circumstances should any of those things involve bathrooms. Learn more about best practices for rental restrooms for weddings.
It's game day, and your team is about to make the comeback of the decade. Sporting events may bring hundreds of spectators to your event space at once, and you'll need to make sure all of your athletes, guests and employees feel comfortable when they need to use the bathroom. Get more information.
A government's primary duty is to protect public health, safety, and prosperity, and that sometimes means providing reliable sanitation solutions to the populace and civil servants in a given area. It is essential to make sure your citizens and employees are comfortable and safe by providing quality porta potty rentals and accessories for various government events.
Agriculture Portable Toilet Rentals
Common Projects & Events That Need Porta Potties
Responding to an emergency comes with a lot of responsibilities, challenges, and obstacles. The main objective in these situations is to restore a reasonable quality of life as fast as possible post-disaster, providing food, water, and shelter for those affected. In addition to these basic needs, an often overlooked aspect of disaster relief is arranging proper sanitation services for all parties involved.
Updated guidelines and regulations have increased the scrutiny with which agricultural work sites are judged. These guidelines apply to both the sanitation equipment and services available to field workers. Learn more about high-quality portable toilet rental solutions that meet the demands of this demanding work.
Construction projects, music festivals, landscaping projects, and weddings may not seem to have much in common on the surface, but two things can definitely be said about all of them: they're going to produce a lot of trash, and they create a need for sanitation solutions. Get more information about what your project or event might need.
PORTABLE RESTROOM TYPES/NAMES
Handicap/ADA Portable Toilet Rentals
Just as restrooms in public buildings usually have at least one ADA-accessible stall, public events that rely on porta potty rentals for sanitation must also provide a sufficient number of handicap-accessible toilets. Learn more about how to maintain full legal compliance and make sure that all of your guests feel comfortable.
Portable toilets don't have the best reputation in the odor department. One of the reasons for this is because many portable restrooms don't have flushing capabilities. There are several different types of flushable porta potty rentals that can help eliminate odor and make the bathroom experience more comfortable for your guests and employees. Learn more about these options.
A porta john or port a john, also called a porta potty or portable toilet is a type of toilet that does not require plumbing or permanent fixtures and can be easily transported from one site to another. Waste is collected in a tank that service providers will regularly pump out and take to a wastewater facility near you.
Port-O-Let or porta-let is another name for a portable toilet or porta potty. In addition, to these names for portable toilets there are others across the world like portaloo, sani privy and more. Learn more about renting a port-o-let for your next event or project.
LATEST PORTABLE TOILETS BLOG POSTS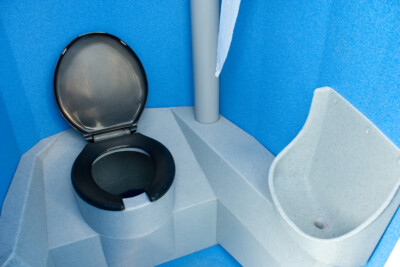 Porta potties aren't the most glamorous topic, but they're a necessary presence among many an outdoor event or construction site, and when maintained properly, they can be a welcome addition to any location. When you rent porta potties from ASAP Site Services, whether it's a single-unit toilet or a five-stall portable restroom trailer, we don't … Read more
Find Your Local Pricing & Order Today!