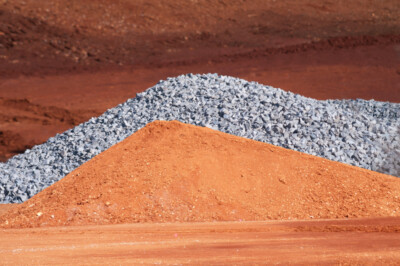 Clean dirt sounds like an oxymoron, but we assure you, it's real, and it's an important thing to consider when deciding how to haul away material from your construction or renovation site. Clean dirt, and similarly clean concrete, is free of contaminants like corrosives, combustibles, or radioactive materials. It's also largely free of organic material, meaning it won't decompose over time. Clean materials must not contain anything that'd be dangerous to handle, like sharp rubble, glass, or metal.
Clean dirt, clean concrete, and other clean materials can be recycled, and therefore should be hauled separately from other kinds of refuse and debris. Special clean dirt and concrete roll-off dumpsters exist for just this purpose. In recycling your clean concrete and clean dirt material, you'll also save money on dumpster rental costs and disposal fees. ASAP Site Services offers clean concrete and clean dirt dumpsters with a 10-ton limit at a lower price than standard roll-off dumpsters. Below we'll answer some of your questions about what exactly clean dirt and concrete are and what you can do with them.
What Materials Are Considered Clean?
It's not just dirt and concrete that are fit for recycling—many similar materials also qualify as clean. Brick, concrete blocks, stucco, tile roofing, and driveway material are also reusable under the right conditions, so choose a clean concrete dumpster for their disposal.
What Are Clean Dirt and Clean Concrete Roll-Off Dumpsters?
Just like standard roll-off dumpsters, clean dirt and concrete dumpsters are open-top dumpsters that fit roll-off trucks for easy loading, unloading, and hauling. They tend to be a bit smaller than standard dumpsters since you'll likely have less clean dirt on your project than you do other debris. The contents of a clean dirt or concrete dumpster must be homogenous, which means you can't mix different materials inside them—this is necessary to keep everything you're disposing of suitable for recycling.
Since you'd need one roll-off dumpster for each clean material you plan to unload, they're less expensive than standard roll-off dumpsters. The delivery and removal process is just like any other dumpster, however. Once you've filled your rental, your provider will come and haul the contents away.
What Kind of Roll-Off Dumpster Will You Need?
If you're doing some in-depth spring cleaning, you'll likely need a mixed-material dumpster to dispose of any garbage or old junk you want out of the house. For full demos, new constructions, and home renovations, however, you may need both a standard dumpster and a clean dirt or concrete dumpster to dispose of the materials you pull from the structure or the dirt you remove to lay a new foundation.
What Happens to Clean Materials When They're Hauled Away?
Because it's mostly inorganic and won't break down over time, clean dirt can be used to level ground, fill holes, and provide a foundation for other construction projects. Similarly, other clean materials can be recycled as-is depending on their condition or broken down and reconstructed for reuse.
If you think a clean concrete or dirt roll-off dumpster rental might be right for your next project, or if you need a little more guidance, contact ASAP Site Services. We'll answer any questions you have about ordering roll-off dumpster rentals, which materials are acceptable for each kind of dumpster, and anything else that will help make your project a success.