Ordering Temporary Storage Containers Made Simple.
Ordering our portable storage containers is simple, and pricing is easy to understand. Order online using the Order Now button below and we will take care of the rest! No worries.
Rental Storage Containers Sizes
ASAP Site Services is the top provider of portable storage container rental services nationwide. Get the best portable storage unit prices available. Order today.
20-Foot
40-Foot
Combo Office and Storage
Rent Portable Storage Containers Today
Portable Storage Container Rental Rates
The cost to rent temporary storge containers vary and is often influenced by several factors. The size and type of container needed, the length of rental time, and the location of delivery all play a part in determining the final price.
Additionally, if you are looking to rent a specialty unit such as a combo office storage container, those rental rates are typically higher.  Overall the cost to rent a unit will come down to the availability in your area and the distance from the nearest location.
10-Foot Portable Storage Unit
$372.00
15-Foot Portable Storage Unit
$372.00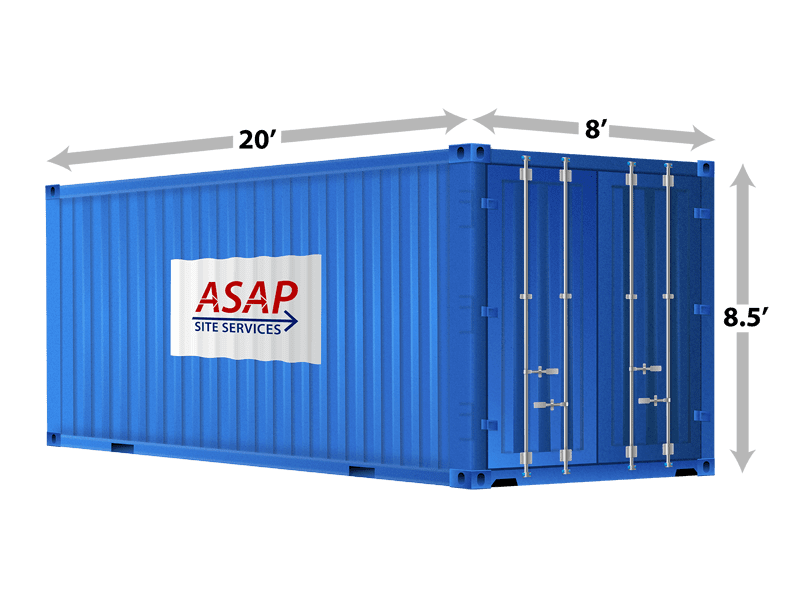 20-Foot Portable Storage Unit
$422.00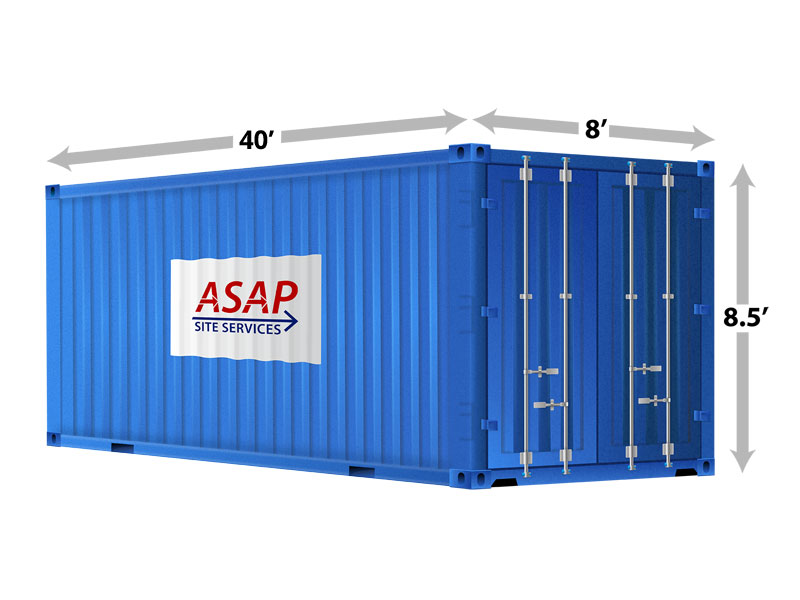 40-Foot Portable Storage Unit
$472.00
What to Consider When Renting a Portable Storage Container?
When renting a portable storage container, there are several important factors to ensure you make the right choice for your needs. Here are some key considerations:
Size: Determine the size of the container you require based on the number of items you need to store. Consider both the volume and dimensions of the container to ensure it can accommodate your belongings adequately.
Accessibility: Consider how easily you can access the container. Some containers have doors that open on one end, while others have doors on both ends or even on the sides. Choose a container with doors that suit your accessibility needs.
Security: Assess the security features of the container. Look for sturdy construction, and lockable doors.
Location restrictions: Check if there are any restrictions or regulations on placing storage containers in your desired location. Some areas may have specific rules regarding placement, permits, or zoning regulations that you need to comply with.
Climate control: If you are storing items that are sensitive to temperature and humidity, consider renting a container with climate control capabilities. This feature helps protect your belongings from extreme weather conditions.
Why Choose ASAP Site Services For Your Rental Storage Containers?
We hope you allow us to serve you as we've provided services to over 50,000 locations.  In addition, we can offer a wide Range of temporary container options.  Whether you require a small container for personal use or a larger container for commercial purposes,
if you are running a more complicated job site that also requires portable toilets, and roll-off dumpsters, we can put together a package that is both convenient and economical.
Most importantly, we provide you with peace of mind.  Allow our ASAP advisors to guide you through the process from start to finish.  We are here to help you with all your needs.
Find Your Local Pricing & Order Today!
Why Rent Portable Storage?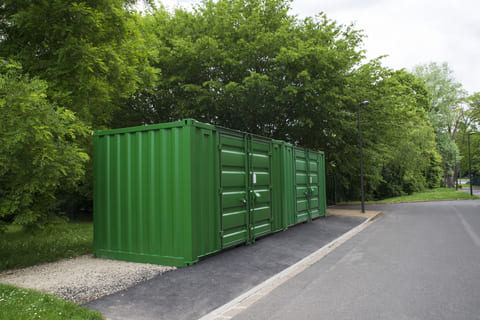 Portable storage container rentals are good options for temporarily storing items that you need direct or more frequent access to. Unlike permanent long term storage units, which are likely to be on a separate lot at least a few miles from your location, our portable storage box can be delivered to the site of your choice and placed in any unused space so you can easily get in and out as often as you need to.
People rent portable storage containers for a variety of reasons. If you're moving or you need somewhere to put your decor while remodeling part of your house, mobile storage units are an efficient way to store your belongings nearby. They're also popular with travelers who will be away from their primary residence for long stretches and college students who leave town for the summer.
If you host an annual or seasonal public event, you can use portable storage to hold onto materials between sessions. Temporary storage container rentals are also helpful at construction sites—if your crew needs to use the same expensive equipment every day; you can leave it in a storage unit on location to protect it from theft or weather instead of carrying it off-site at the end of every shift.
Beginning and Ending Your Rental Period
Please place your portable storage space rental order at least two days in advance of your preferred delivery date. Let us know what kinds of items you plan to store in your rental unit, and leave detailed instructions as to where you'd like each unit placed and installed within your site for easy access. When you're ready to end your rental period, contact ASAP Site Services directly so we can arrange to pick up your mobile shipping containers  and start finalizing your bill.
Considerations and Precautions
For efficient delivery and removal, make sure your placement area is easily and safely accessible for providers. You may need a permit to place a storage container rental in the street or on other public property. Please check with your local municipality before placing your order to see if you'll need express permission to put a portable storage unit at your ideal placement site.
If you experience any complications with your portable shipping containers, contact ASAP. We'll send someone to your site to evaluate the situation and make adjustments as necessary.
Find Your Local Pricing & Order Today!
Order Portable Storage Today
Call (866) 413-3908 or fill out the online form to rent portable storage containers for any location in the U.S. If you have questions about our storage solution rental policies or which sizes will best meet your needs, our customer service team will be happy to assist you. Let us know how we can solve your storage problems today!