Construction Portable Toilets
Portable toilets are legally required to be available on a jobsite to accommodate workers and anyone else who might be present. Maintaining good hygiene is a must when dirt and grime are part of the job, and construction crews are more productive when they're comfortable.
Types of Construction Portable Toilets
There are several types of single-unit portable toilets you can rent for construction sites.
Standard portable toilets

Portable toilets with a sink

ADA portable toilets

High-rise portable toilets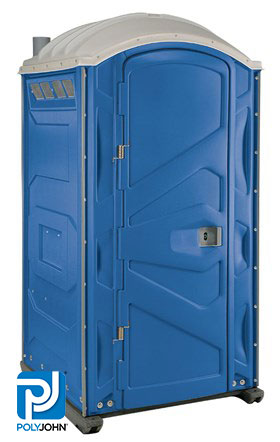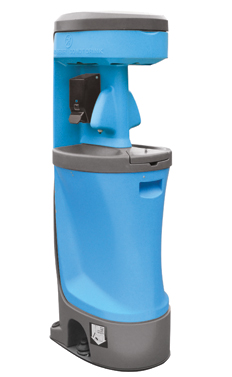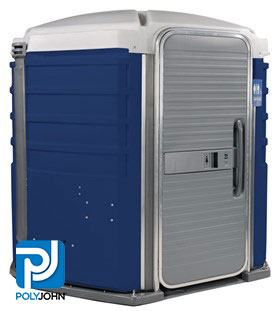 Portable Toilet
with Sink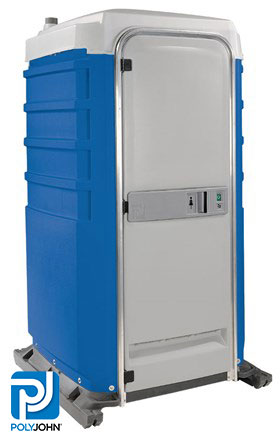 High Rise
Portable Toilet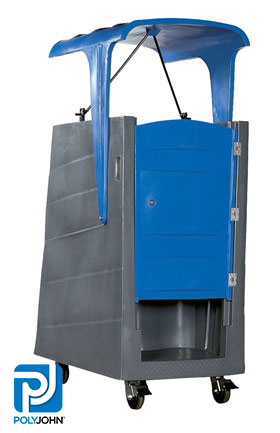 How To Choose the Right Portable Toilet for Your Construction Site
Standard portable toilets are fine for most construction sites. These rentals only include a toilet, so if this is your choice, we recommend ordering separate portable sinks so your employees can wash their hands. We also offer portable toilets that have sinks inside.
If your construction project has people working on higher floors, high-rise portable toilets will be very useful. These units have wheels and detachable roofs to make them easier to fit onto elevators and move from floor to floor. You'll also need to have an appropriate number of ADA portable toilets to accommodate any workers with disabilities.
You will need at least one portable toilet for every 10 workers on a shift. This ratio will prevent lines for the bathroom and keep the tanks from overflowing between servicing.
Care and Maintenance of Portable Toilets on Construction Sites
Every rental order comes with one weekly sanitation servicing. You can request up to seven days of servicing a week for an extra charge per day. During each service, ASAP's local providers will pump out the tanks, clean and sanitize each unit, restock supplies such as soap and toilet paper, and relocate toilets within your site as needed. The waste will be transported to a local wastewater facility and disposed of per local government regulations
Construction Roll-Off Dumpsters
Roll-off dumpsters are essential for any construction site. You'll have somewhere to dispose of construction waste to keep your site safe and organized while you're working, and our providers will take your load to the dump for you at the end of your rental period.
Standard Roll-Off Dumpster Sizes
10 ft long x  8 ft wide x 3.5 ft high
12 ft long x  8 ft wide x 4 ft high
22 ft long x  8 ft wide x 5 ft high
23 ft long x  8 ft wide x 7 ft high
20 ft long x  8 ft wide x 3.5 ft high
How to Choose the Right Roll-Off Dumpster for Your Construction Site
Ordering the right dumpster size will save you a lot of headaches. If your dumpster is too small, you won't have enough space for all your waste, and you might need to pay for overages or extra hauling. If your dumpster is too large, you'll be paying for space you don't actually need—in a worst-case scenario, you might not even be able to fit your dumpster into your preferred location. To determine the right dumpster size for your project, you'll need to complete a few calculations.
Roll-off dumpsters are available in sizes ranging from 10 to 40 cubic yards. One cubic yard is approximately the size of a kitchen oven, so imagine how many "ovens" of debris you'll need to throw away. You'll also have to make sure your placement site can accommodate the dumpster's dimensions along with an extra 10 feet of clearance space so the rear door can open.
How to Properly Load Construction Roll-Off Dumpsters
Most debris can simply be tossed into the dumpster over the rim. Materials that are too large or heavy for this can be loaded through the back door, with the aid of a dolly if necessary. Be careful not to let anything spill out or launch over the top while you're adding to the dumpster load.
Construction Restroom and Shower Trailers
Portable toilets and sinks may not be enough for some work sites, either because there are too many people to accommodate or because the job is so dirty that washing your hands won't cut it. In these cases, our construction restroom trailers and shower trailers can take comfort and cleanliness to the next level.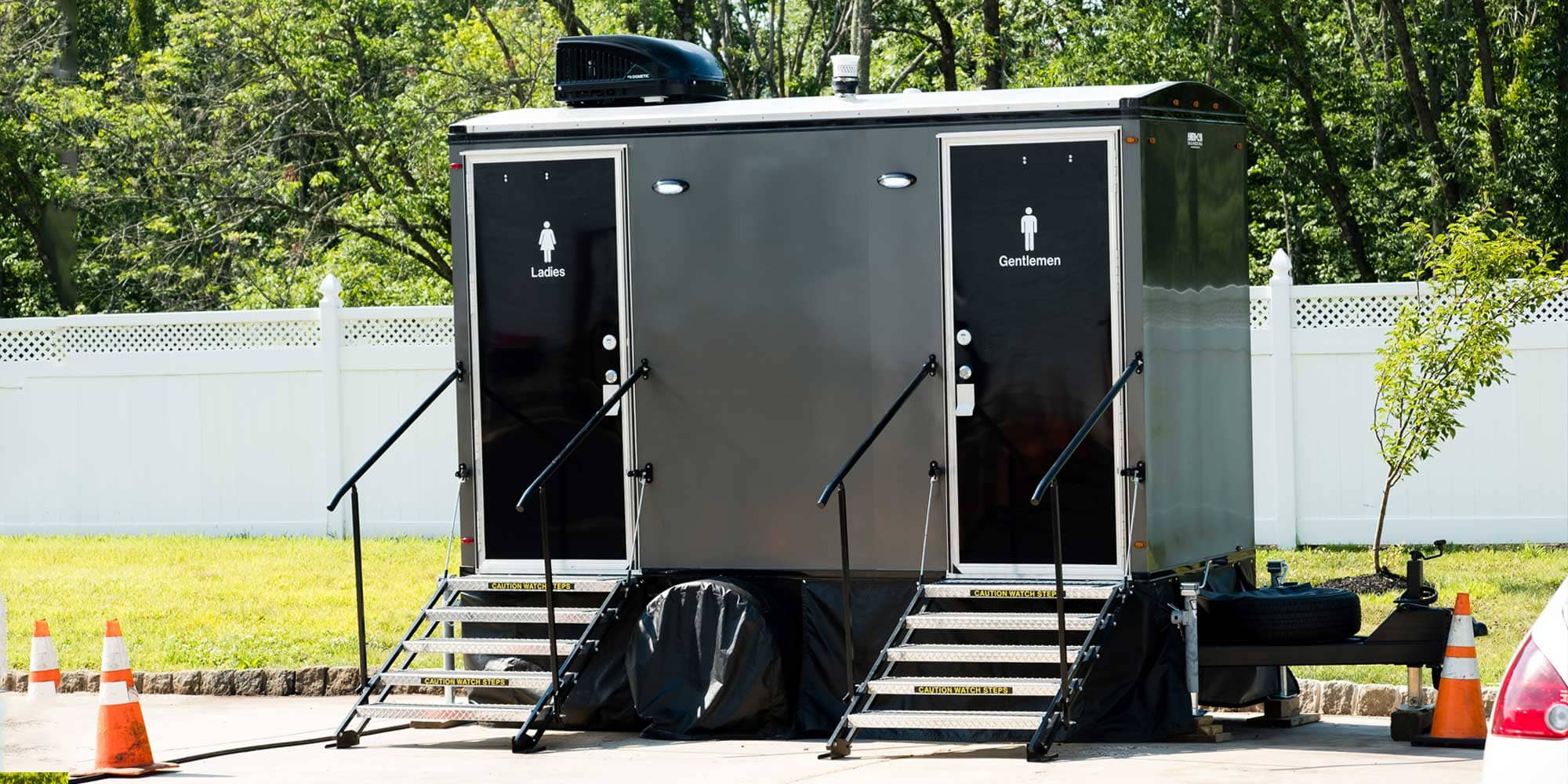 Construction Restroom Trailers
Renting restroom trailers is similar to having a full public bathroom on your site. Every trailer has multiple stalls (2, 3, or 5), sinks, mirrors, soap dispensers, lighting, and trash receptacles. With multi-stall construction restroom trailers, more people can use the bathroom at once, and they'll have a more comfortable space to clean themselves up.
Construction Shower Trailers
If your project involves a lot of dirt, mud, grime, or other forms of filth, your team will need to do a lot more than wash their hands to feel clean. Shower trailers will let them completely wash themselves off so they can relax at the end of their shift and head home without tracking crud into their house or car. Our trailer rentals have 2, 3, or 5 shower stalls, and they all include curtains, places to hold a towel, sinks, mirrors, lighting, and trash bins.
Construction Fencing and Barricades
Construction fencing and construction barricades will keep the public out of your jobsite and control the flow of traffic either around or through your work area. Our providers will deliver your barrier rentals on schedule, help you install them around your site, and dismantle and retrieve them when the project is done.
Types of Fencing and Barricade for Construction Sites
ASAP's construction fencing options include fencing panels with stands, chain-link fences with posts, and gates of different widths. These rentals are great for establishing the parameters of your construction site, sectioning off restricted areas, and protecting the site from trespassers overnight.
You can use our traffic barrels to guide vehicular traffic through or around your construction site. If you set them up strategically, you'll avoid jamming and force drivers to move slowly enough to prevent car accidents. We also rent crowd control barriers that serve similar functions for foot traffic if you'll be working in a highly-populated area.
Construction Portable Storage
ASAP offers affordable portable storage units in a range of sizes. Although this offering is more commonly used by homeowners, construction sites can benefit from portable storage as well.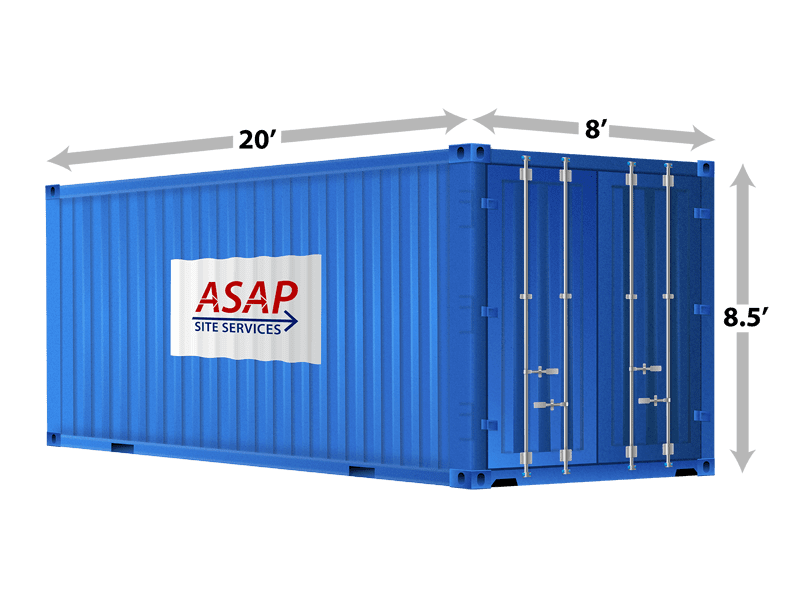 Uses for Portable Storage on Construction Sites
Renting portable storage for your jobsite is a great way to keep your tools, equipment, and other resources safe. Most construction jobs aren't completed in one night, and some require the use of heavy machinery. Transporting this equipment to and from your jobsite every day is a hassle—with construction portable storage, you can lock up your most essential items and leave them at your site without having to worry about theft, tampering, or exposure to bad weather.
Order Your Construction Site Solutions Today
Call (888) 413-5105 or go through our easy online ordering process to have your rentals delivered to your location. We'll answer any questions you have about any problem you are facing, our rental policies, and which products are the best choices for your event or job site.
For high-quality services at low prices, rely on ASAP Site Services. We're happy to help in any way we can.