Commercial Dumpster Rentals Made Simple.
Ordering is simple and pricing is easy to understand. Order online using the Order Now button below and we will take care of the rest from the beginning of your rental period to the end! No worries.
Commercial Dumpster Rentals
ASAP Site Services is the top provider of commercial front load dumpster rentals in various sizes for your business. Get the best business dumpster rentals available. Order today.
6-Yard Commercial Front Load Dumpster
Order Commercial Front Load Dumpsters
Commercial Dumpster Rental Prices
Several factors drive the rental price of a commercial dumpster: The size of the dumpster, the duration of the rental, the frequency of waste removal, and the location of the rental.
Larger dumpsters generally come with higher rental costs due to their increased capacity. Longer rental durations or more frequent waste removal may also incur additional charges. Moreover, the location of the rental can impact the price due to variations in local regulations, disposal fees, and transportation costs.
We offer commercial dumpsters in a range of sizes at rates below regional averages. Our commercial dumpster rentals and services require a one-year contract, billed at the listed price in 28-day periods.  Most importantly, our contracts are only for a year.  Where as you will typically see three and even five your contracts with the larger providers. 
Take a look at our average prices for each front load commercial dumpster size below.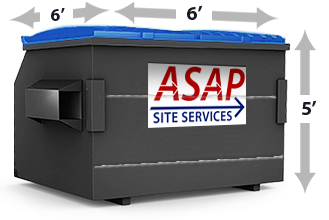 6-Yard Front Load Dumpster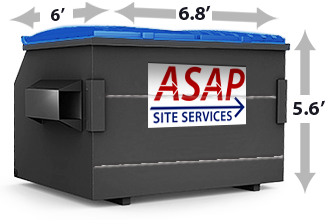 8-Yard Recycling Front Load Dumpster
Prices include one weekly garbage pickup, but you may request additional commercial dumpster service (up to seven days a week) for a fee. We also charge a one-time delivery fee of $75 per unit. A 10% discount will be automatically applied to orders of more than two commercial dumpster rentals.
The exact cost of your business dumpster service depends on many regional factors, including city and environmental fees, local landfill rates, competition in the area, and route density (your location's proximity to other spots along the truck's collection route). Your prices may be higher if you're in a franchised area because we have less room to negotiate with franchise providers. Enter your zip code below to find your local pricing and start your order.
Find Your Local Commercial Dumpster Pricing & Order Today!
Why Rent a Commercial Dumpster?
Commercial dumpsters are the most common solution for commercial garbage needs. They're shorter and not as wide as other dumpster options, making it easier for employees and tenants to throw trash away, and are covered by a lid to keep odors and unsightly messes in check. Front load dumpsters also come with slots on either side that fit the prongs of a garbage truck, facilitating fast and simple pickup.
All kinds of businesses depend on business dumpster services to manage large amounts of refuse. Bars and restaurants use them to dispose of food waste, and apartment complexes use them to accommodate all of their tenants. Even small businesses that don't produce a lot of garbage still need front load dumpsters to empty their indoor trash bins.
Garbage Pickup For Your Front Load Dumpster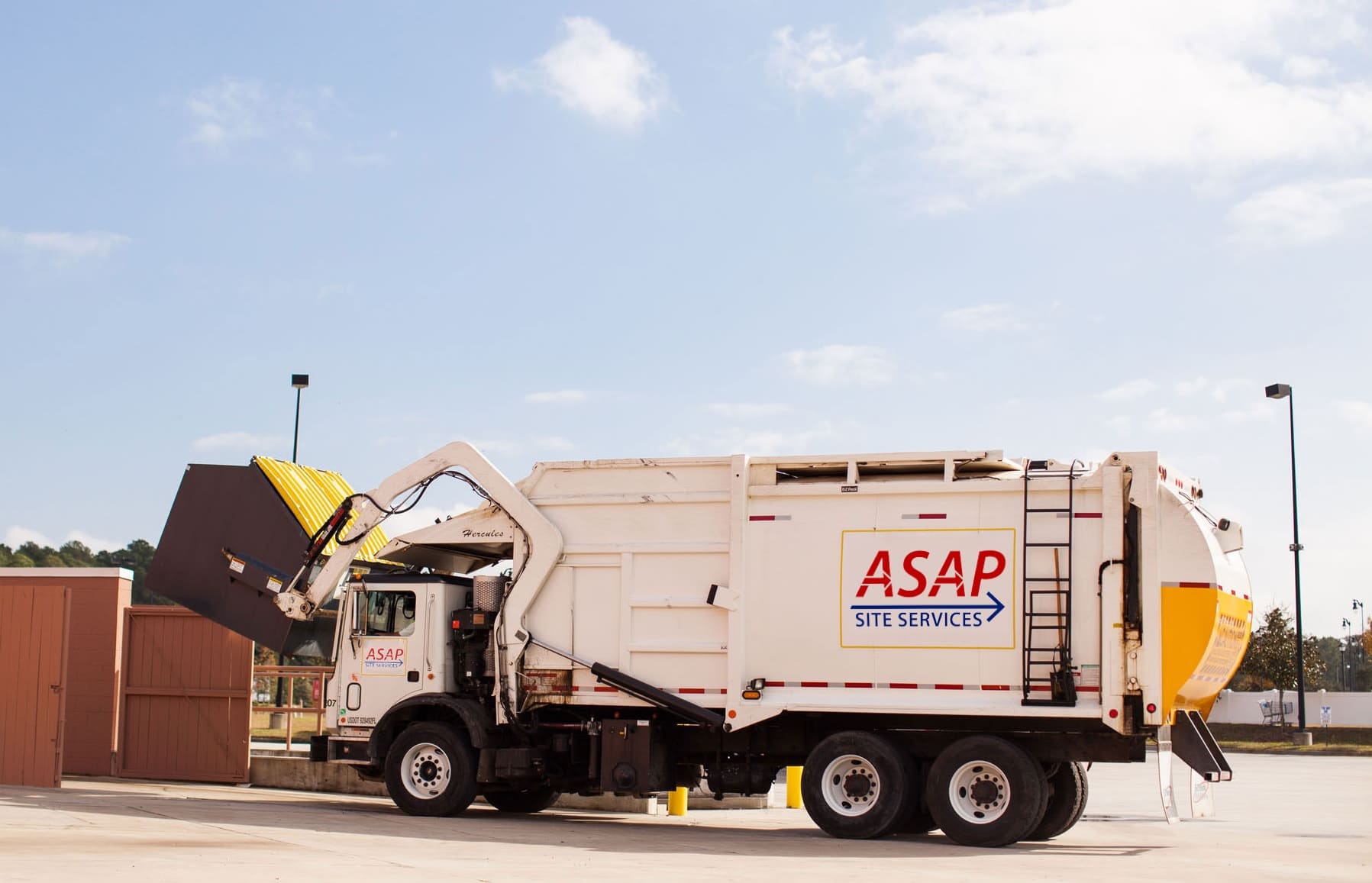 The base price of your commercial dumpster rentals includes one weekly service, but you can order up to seven days of pickup for an additional charge per day. All ordered services will take place on the same days each week (for example, every Monday and Thursday), but you may request individual off-schedule pickups for a fee as necessary. Your providers will dispose of the solid waste at a local landfill.
All waste must fit within the front load dumpster itself when your providers arrive for pickup, or you will be charged extra for an overfilled dumpster. There are no tonnage limits for commercial dumpster rentals, but if a load is too heavy for the garbage truck to lift, you will be billed for a dry run.
Considerations and Precautions for Commercial Dumpster Rentals
You can use a front load dumpster to dispose of municipal solid waste (MSW) and construction and demolition materials (C&D). MSW describes everyday garbage: food scraps, packaging, paper towels, clothes, furniture, etc. C&D waste includes plastics, metals, wood, glass, rocks, tree stumps, and branches. Hazardous and/or contaminated materials, flammable materials, medical waste, and electronics may not be disposed of in a front load dumpster.
ASAP believes in sustainable waste management. If your business produces a lot of recyclable refuse, such as paper, aluminum cans, glass bottles, and most plastics, we encourage you to order an 8-yard recycling commercial dumpster in addition to a standard commercial dumpster. Your providers will take recyclable materials to a separate facility after pickup. Materials like clean dirt, clean concrete, brick, and metal shavings are recyclable as well, but they require special dumpsters (available by request).
Before ordering a commercial dumpster rental, ensure your location has enough space for safe and accessible placement. Your placement area should ideally have enough room to accommodate double your front load dumpster's dimensions, and a garbage truck must be able to reach it easily. Avoid placing your commercial dumpster on top of plumbing fixtures, yard fixtures, or any pavement that may be damaged under its weight—ASAP is not responsible for damages to your rental units or your property.
You should always be able to place dumpsters on private property, but city property (like the alleyway or street outside your building) may require a permit. Check with your city and/or county government for more details before ordering your rentals.
It's easy to forget about garbage once you throw it away, but you don't want anyone messing with the contents of your front load dumpster. We recommend ordering accessories like a bar lock to keep unauthorized parties from using your construction dumpsters after hours or a bear lock to keep animals from getting into your trash.
Why Rent a Commercial Dumpster from ASAP Site Services?
There are several companies you can pick when it comes to renting a commercial dumpster.  At ASAP we pride ourselves on providing one thing above all else, peace of mind.
When you work with an ASAP advisor, we'll ensure you get the proper business dumpster service.  In addition, we won't lock you into an onerous multi-year front load dumpster contract.  All of our contracts are one year in duration.  The big companies require you to sign a three-to-five year agreement.
Most of all, we are accessible.  You won't find yourself on hold for hours at a time.  You can call, text or email us with any questions and an ASAP advisor will contact you.
Find Your Local Pricing & Order Today!
Order Commercial Dumpster Rentals Today
Call (888) 413-5105 to begin placing your commercial front load dumpster rental order or ask questions about our rental policies and servicing processes. You may also order directly online.
By delivering excellent customer service at affordable prices, ASAP Site Services has helped businesses all over the country with their waste management needs. Contact us today to order commercial dumpster services for your business.