8-Yard Front-Load Dumpster Rental Prices
Your front-load dumpster rental rates will be based on where you're located in the United States. Prices vary from place to place depending on factors like local landfill rates, environmental fees imposed by your city, and your proximity to other stops on the garbage truck's pickup route—regardless, we're confident ASAP will have the best commercial dumpster rental prices in your city. The average price for an 8-yard dumpster rental is between $349.00 and $474.00.
We require commercial dumpster rental customers to sign a contract for a minimum of one year, and you'll be billed for your quoted price every 28 days. The base price included one weekly garbage collection, but you can order extra pickups for an additional charge. You'll pay a one-time delivery fee of $75 when you place your order. You can receive a 10% discount on your total order by renting more than one front-load dumpster rental at once.
Choosing the Right Commercial Dumpster Rental Size
To choose the right dumpster rental size, it's important to understand how they are measured. The 8-yard front load dumpsters are our largest option, measuring 6.8' in length by 6' in width and 5.6' in height. Consider how much waste your business produces each week on average and your desired number of pickup days. If you need help deciding between the 8-yard front load dumpster or a smaller dumpster for rent, contact ASAP for advice.
When to Choose 8-Yard Front-Load Dumpster Rentals
If your business produces enough waste to warrant multiple small dumpster rentals, consolidating the loads into one 8-yard dumpster rental could be a better option. Larger apartment communities, office buildings, retail centers, busy restaurants, and the like typically generate enough trash to benefit from an 8-yard dumpster rental. After all, it's better to have the extra space and not need it than need the extra space and not have it.
Further Considerations
Make sure to choose an easily accessible location for your dumpster rental. Your placement site should be about double the size of your dumpster's dimensions. If the garbage truck can't reach your front-load dumpster rental on collection day, you'll be charged a dry run fee. There are also fees for exceeding your weight limit and contents that extend beyond the dumpster's rim.
Order Commercial Dumpster Rentals From ASAP Site Services
Call us at (888) 413-5105 or go through our online ordering process to get your dumpster rental order started! We're ready and waiting to answer any questions you may have and to get your rental ready to go.
Order Commercial Front Load Dumpsters
Commercial Dumpster Rental Prices
We offer commercial dumpsters in a range of sizes at rates below regional averages. Our commercial dumpster rentals and services require a one-year contract, billed at the listed price in 28-day periods. Take a look at our average prices for each front load dumpster size below.
No Gimmicks.
No Hassle Ordering.
Upfront Pricing.
Ordering is simple and pricing is easy to understand. Order online using the Order Now button below and we will take care of the rest from the beginning of your rental period to the end! No worries.
Commercial Dumpster Rentals
ASAP Site Services is the top provider of commercial front load dumpster rentals in a variety of sizes for your business. Get the best dumpster rentals prices available. Order today.
2-Yard Front Load Dumpster
4-Yard Front Load Dumpster
6-Yard Front Load Dumpster
8-Yard Front Load Dumpster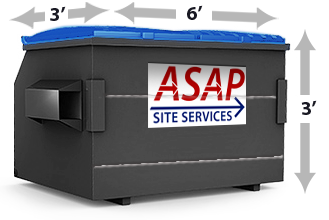 2-Yard Front Load Dumpster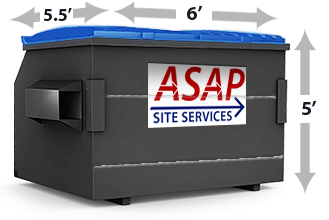 4-Yard Front Load Dumpster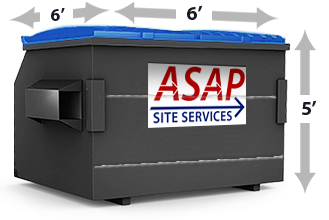 6-Yard Front Load Dumpster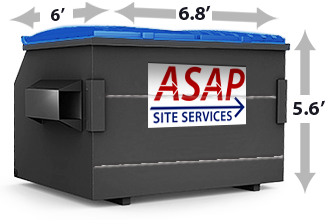 8-Yard Front Load Dumpster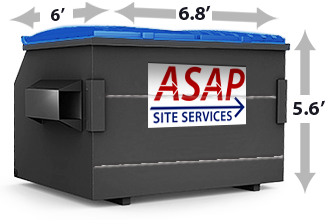 8-Yard Recycling Front Load Dumpster
Prices include one weekly garbage pickup, but you may request additional service (up to seven days a week) for a fee. We also charge a one-time delivery fee of $75 per unit. A 10% discount will be automatically applied to orders of more than two commercial dumpster rentals.
The exact cost of your commercial dumpster rentals depends on many regional factors, including city and environmental fees, local landfill rates, competition in the area, and route density (your location's proximity to other spots along the truck's collection route). Your prices may be higher if you're in a franchised area because we have less room to negotiate with franchise providers. Enter your zip code below to find your local pricing and start your order.