4-Yard Front-Load Dumpster Rental Prices
ASAP's commercial dumpster rental prices are competitive no matter where you live in the U.S., and the variety of size options makes it easy to find the best fit for your business. To take advantage of our rental services, we ask that you commit to a minimum one-year contract that's billed at the listed price for your chosen dumpster size in 28-day increments.
For a 4-yard dumpster rental, the average price ranges from $199.00 to $324.00. This base rate includes one weekly trash pickup. While prices vary by location due to factors like landfill rates and city fees, our rates are always lower than the regional average. If you'd like a more precise estimate for a commercial dumpster rental in your area, enter your zip code to get a quote.
If you think you'll need your garbage picked up more than once a week, you can schedule up to seven visits a week for an extra charge. Aside from the standard monthly price, there's also a one-time delivery fee of $75. We'll automatically apply a 10% discount to dumpster rental orders of two or more units.
Choosing the Right Commercial Dumpster Rental Size
Consider dimensions carefully when choosing one of our small dumpsters for rent. A 4-yard dumpster rental measures 6' in length by 5.5' in width and 5' in height. You need to make sure this dumpster size will fit at your site with enough surrounding room to make it easily accessible. If you'd like some guidance on how to determine the size and number of dumpster rentals that will be best for your business, give us a call at (888) 413-5105 and our team can walk through the process with you.
When to Choose 4-Yard Front-Load Dumpster Rentals
4-yard dumpster rentals are a great option for businesses that need slightly more capacity than a comparable 2-yard dumpster, or for those with relatively little waste who want to maintain a less frequent pickup schedule. Retail stores, smaller restaurants, and apartment communities with fewer available pickup spots can all benefit from 4-yard dumpster rentals. If you think you may need a larger dumpster, you can always size up to a 6- or 8-yard option from the get-go to avoid having to place a new order and incur more delivery charges.
Further Considerations
Placement and pickup location is another important factor to consider when choosing your dumpster rental. Ideally, your placement site will have double the space of your dumpster's dimensions. The garbage truck must be able to reach your dumpster rental easily.
Your dumpster cannot have any contents piling up over the top when it's time for trash pickup. If this is a concern for you based on how much waste your business produces, please consider sizing up to a 6- or 8-yard dumpster. If the local provider is unable to complete a scheduled pickup, you will be charged a dry run fee. You may also be charged if the dumpster's contents exceed the predetermined weight limit noted in your contract.
Order Commercial Dumpster Rentals From ASAP Site Services
Ready to order your front-load dumpster rental? Call (888) 413-5105 to speak to one of our team members or go through the process online. We look forward to helping you maintain a clean, organized, and successful business.
Order Commercial Front Load Dumpsters
Commercial Dumpster Rental Prices
We offer commercial dumpsters in a range of sizes at rates below regional averages. Our commercial dumpster rentals and services require a one-year contract, billed at the listed price in 28-day periods. Take a look at our average prices for each front load dumpster size below.
No Gimmicks.
No Hassle Ordering.
Upfront Pricing.
Ordering is simple and pricing is easy to understand. Order online using the Order Now button below and we will take care of the rest from the beginning of your rental period to the end! No worries.
Commercial Dumpster Rentals
ASAP Site Services is the top provider of commercial front load dumpster rentals in a variety of sizes for your business. Get the best dumpster rentals prices available. Order today.
2-Yard Front Load Dumpster
4-Yard Front Load Dumpster
6-Yard Front Load Dumpster
8-Yard Front Load Dumpster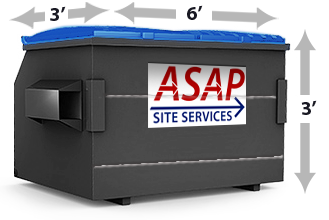 2-Yard Front Load Dumpster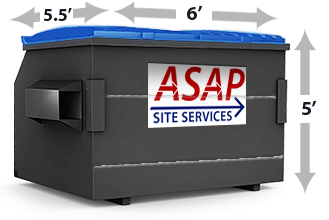 4-Yard Front Load Dumpster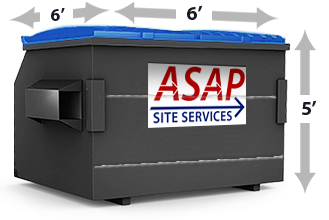 6-Yard Front Load Dumpster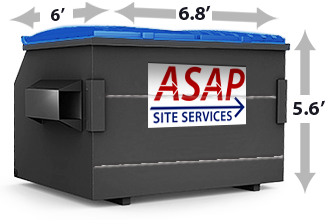 8-Yard Front Load Dumpster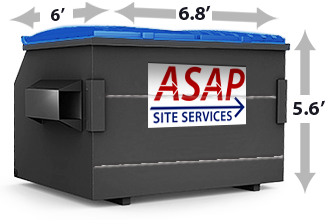 8-Yard Recycling Front Load Dumpster
Prices include one weekly garbage pickup, but you may request additional service (up to seven days a week) for a fee. We also charge a one-time delivery fee of $75 per unit. A 10% discount will be automatically applied to orders of more than two commercial dumpster rentals.
The exact cost of your commercial dumpster rentals depends on many regional factors, including city and environmental fees, local landfill rates, competition in the area, and route density (your location's proximity to other spots along the truck's collection route). Your prices may be higher if you're in a franchised area because we have less room to negotiate with franchise providers. Enter your zip code below to find your local pricing and start your order.