Over 50,000 Construction, Residential, and Event Projects Serviced
Need advice on selecting a product?
Speak to an ASAP Advisor:
Our Promise to you is to provide peace of mind every step of the way in your rental process with ASAP Site Services.
"We pride ourselves on making your experience simple, quick, and easy. And, making sure you have the right product for any job—coordinating with over 3,500 reliable service providers, nationwide, on your behalf."
-Sean Mahon, CEO
What to Know About Portable Toilet Rentals
Why Rent Portable Toilets?
Portable toilets are essential in numerous situations. For large public events like concerts, festivals, sporting events, or any outdoor event, porta potty rentals are necessary to accommodate hundreds or thousands of visitors each day. On a smaller scale, individuals often rent portable toilets for weddings or backyard parties to keep their guests comfortable.
Commercial projects need portable bathroom rentals to accommodate workers at job sites without convenient access to functional indoor plumbing: construction sites, home remodels, parking lots, landfills, etc. This is also true of disaster relief areas. Porta potties also come in handy at remote recreational locations like golf courses and campsites.
How Many Portable Toilets Do You Need?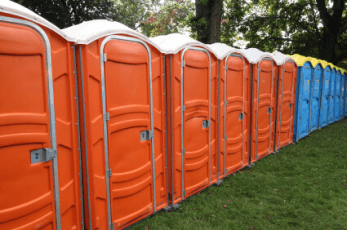 The recommended quantity of porta potty rentals will vary by your purpose for ordering, the number of people, and the length of the event or project. You should order enough units to keep the tank from overfilling between services.
If you need portable toilets for a job site, the standard recommendation is one unit for every 10 workers in a 40-hour workweek. For an event, the guidelines vary more widely depending on the duration and the number of people you expect to attend and also if the event will be serving alcohol.
Beginning and Ending Your Portable Toilet Rental Period
Please place your order at least two days before the beginning of your event or project to ensure availability and convenient delivery. For large events and highly populated job sites, we encourage you to place your order at least a week in advance. Although lead time is preferred, many of our local providers can accommodate same-day delivery orders if necessary.
The provider in your area will deliver your porta potty rentals and accessories on the designated day and place them at the site per your instructions (we may relocate units to areas outside of your specifications if necessary to facilitate safe servicing). You are responsible for connecting the holding tanks to your portable toilet rentals yourself. Your rentals may not look exactly as they do on our website, but they will have the same features and functions as the units you ordered.
When you are ready to end your rental period, please call ASAP Site Services —not the number printed on the portable toilets. We'll arrange the removal of all units from your site and stop billing you accordingly. If you contact a hauler to remove your rentals without notifying us, we'll assume your rental period is ongoing and continue to bill you for each day.
Sanitation Services
Your portable toilet rentals include one sanitation service per week, but you may request additional servicing for a fee. During each service, we'll pump out the tanks, clean and sanitize each unit, restock supplies such as soap and toilet paper, and relocate toilets within your site. Waste will be transported to a local wastewater facility and disposed of per local government regulations.
Considerations and Precautions
Before renting a porta potty, ensure your site is suitable for safe and convenient unit placement. The areas where you plan to place a portable toilet should be level, well-lit, and accessible for servicing.
If one of your portable toilets is knocked over, please contact ASAP immediately. We will dispatch a driver to your site to evaluate the incident and make necessary adjustments.
ASAP Site Services is not responsible for any damage incurred to your rentals or your site. Damage waivers are available if you portable toilets for a public event.