Over 50,000 Construction, Residential, and Event Projects Serviced
Need advice on selecting a portable toilet?
Speak to an ASAP Advisor:
Our Promise to you is to provide peace of mind every step of the way in your rental process with ASAP Site Services.
"We pride ourselves on making your experience simple, quick, and easy. And, making sure you have the right product for any job—coordinating with over 3,500 reliable service providers, nationwide, on your behalf."
-Sean Mahon, CEO
What to Know About Portable Toilet Rentals
Why Rent Portable Toilets?
There are two primary uses cases for renting a portable toilet: Events and construction sites.
Porta Potty Rentals for Events
Events, especially those held outdoors, require porta potty rentals to ensure that attendees have access to sanitary and accessible restroom facilities. A porta potty rental can save event organizers the hassle of constructing and maintaining permanent bathrooms, which can be expensive and not possible.  In addition you may not want all of the guests using your facilities.   Portable toilet rentals provide a convenient and cost-effective solution for event restroom needs. With porta potty rentals near you, event organizers can focus on ensuring a seamless guest experience rather than worrying about restroom logistics.
Porta Potty Rentals for Construction
Almost all construction sites require a portable toilet rental.  Portable toilets provide a vital service to workers and help maintain a hygienic environment. With the hard work that goes on at construction sites for hours on end, workers need a convenient and accessible spot to relieve themselves. Aside from the convenience aspect, porta potty rentals go a long way in promoting hygiene at construction sites.  If a location did not have easy access to portable toilets, then the site would have to shut down every time the crew needed to go off site to use a restroom.  In addition, OSHA requires a construction site have easy access to facilities.  Porta potties are typically stocked with disinfectants and other supplies necessary for maintaining a clean environment. If you are searching for "porta potty rentals near me" for your construction site, speak with an ASAP advisor today so we can help you get your site up and running.
How Many Portable Toilets Do You Need?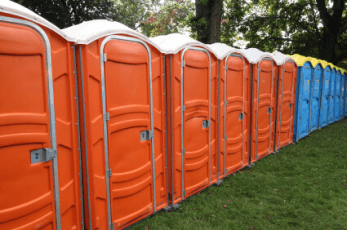 When it comes to organizing a successful event or managing a job site, having an adequate number of porta potty rentals can make all the difference in keeping your guests or workers satisfied and comfortable. The number of toilets you need will depend on several factors, such as the number of attendees or workers, the duration of the event or job, and whether alcohol will be served. Don't let a lack of restroom facilities become a headache at your next event or job site – plan ahead and provide the necessary amenities.  These guidlines below will help ensure your event or job site runs smoothly.
Events
PSAI states that events should have no fewer than oen toilet per 100 people for a 4 hour event,  PSAI Guide.  However that is an absolute minimum and too many toilets is a small problem while too few is a big problem.
Most people recommend 1 porta potty for every 50 guests for a 4 hour event.  If alcohol is served then 1 porta potty for every 40 guests for a 4 hour event.
Construction Sites
If you need portable toilets for a job site, the absolute minimum required number of portable toilets requried by OSHA is 1 portable toilet for 20 or less employees.  If you have 20 or more employees then you need 1 toilet and 1 urinal for every 40 hours worked.  You can access their porta potty requirements here, OSHA
The standard recommendation is one portable toilet for every 10 workers in a 40-hour workweek.
Beginning and Ending Your Portable Toilet Rental Period
Please place your porta potty order at least two days before the beginning of your event or project to ensure availability and convenient delivery. For large events and highly populated job sites, we encourage you to place your porta potty order at least a week in advance. Although lead time is preferred, many of our local providers can accommodate same-day delivery orders if necessary.
The provider in your area will deliver your porta potty rentals and accessories on the designated day and place them at the site per your instructions (we may relocate units to areas outside of your specifications if necessary to facilitate safe servicing). You are responsible for connecting the holding tanks to your portable toilet rentals yourself.
When you are ready to end your porta potty rental, please call ASAP Site Services —not the number printed on the portable toilets. We'll arrange the removal of all portable toilets from your site and stop billing you accordingly. If you contact a hauler to remove your rentals without notifying us, we won't know you've ended your rental and will continue to bill you for each day.
Portablet Toilet Sanitation Services
Your portable toilet rentals include one sanitation service per week, but you may request additional servicing for a fee. During each service, we'll pump out the tanks, clean and sanitize each unit, restock supplies such as soap and toilet paper, and relocate toilets within your site. Waste will be transported to a local wastewater facility and disposed of per local government regulations.
Considerations and Precautions When Renting a Portable Toilet
Before renting a porta potty, ensure your site is suitable for safe and convenient unit placement. The areas where you plan to place a portable toilet should be level, well-lit, and accessible for servicing.
If one of your portable toilets is knocked over, please contact ASAP immediately. We will dispatch a driver to your site to evaluate the incident and make necessary adjustments.
ASAP Site Services is not responsible for any damage incurred to your rentals or your site. Damage waivers are available if you rent a portable toilet for an event.
Why Choose Us?
When planning an event or construction project, it's important to consider the sanitation needs of your guests or workers. Renting a portable toilet from ASAP Site Services is your best solution for several reasons.  We have access to every type of unit available, from standard construction portable toilets to VIP portable toilets.  We also cover the entire nation, so you do not need to look for a new provider at every job site.  In addition, we also offer roll off dumpsters, temporary fencing, storage containers, and tent rentals.  As a result, we can serve as your single point of contact for all your temporary site service needs.
Common Portable Toilets FAQs
We've seen and heard it all.  Consult our portable toilet or FAQ guide speak with an ASAP advisor today.
The guide has answers to our most common questions, such as: How do I prevent my porta potty from freezing, what happens if my porta potty falls over, and how far in advance do I need to place my porta potty order?