Serving the Greater
Dallas Area
Commercial Dumpster Rental in Dallas
ASAP Site Services is the top provider of commercial front load dumpster rentals in a variety of sizes for your business. Get the best dumpster rentals prices available. Order today.
2-Yard Front Load Dumpster
4-Yard Front Load Dumpster
6-Yard Front Load Dumpster
8-Yard Front Load Dumpster
Order Commercial Front Load Dumpsters
Commercial Dumpster Rental Pricing in Dallas
If you decide to partner with us for your dumpster rental and garbage collection needs, you will be asked to commit to a one-year contract. We can offer your front load dumpster rental in Dallas, TX at prices much lower than our competitors' rates. Here's a list of our average Dallas prices for each commercial dumpster size.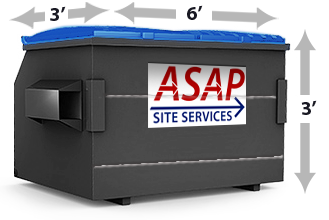 2-Yard Front Load Dumpster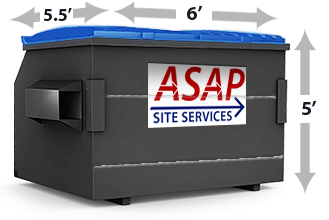 4-Yard Front Load Dumpster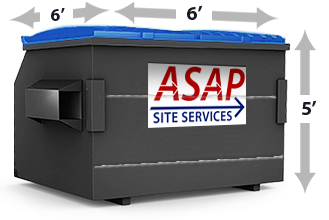 6-Yard Front Load Dumpster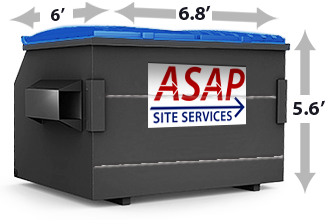 8-Yard Front Load Dumpster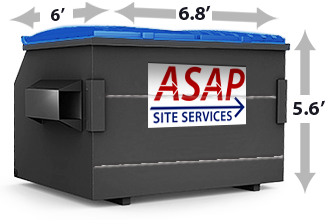 8-Yard Recycling Front Load Dumpster
You'll pay this approximate amount every 28 days during your contract period. There is also a one-time fee of $75 for delivery. These prices include one weekly service, but if you'd like additional garbage pickup, we can collect your trash up to seven days each week for an extra charge per day.
Your pricing will most likely be higher if garbage pickup in your area is overseen by a franchise (we have less freedom to negotiate with franchise haulers). Other factors that may affect your total include local landfill rates, city and environmental fees, and route density (the proximity of your business to other stops on the truck's collection route). To get a quote tailored to your needs and location, enter your zip code below.
Find Your Local Pricing & Order Today!
Why Rent a Front Load Dumpster?
Most businesses use front load dumpster rentals to take care of their trash. Front load dumpsters are compact, covered by a lid, and designed to fit the prongs of a garbage truck for quick, convenient unloading. Bars and restaurants rely on them to dispose of large volumes of food waste, and apartment complexes need them to accommodate all of their tenants. Even small businesses that don't produce much trash still use front load dumpsters to empty their indoor bins.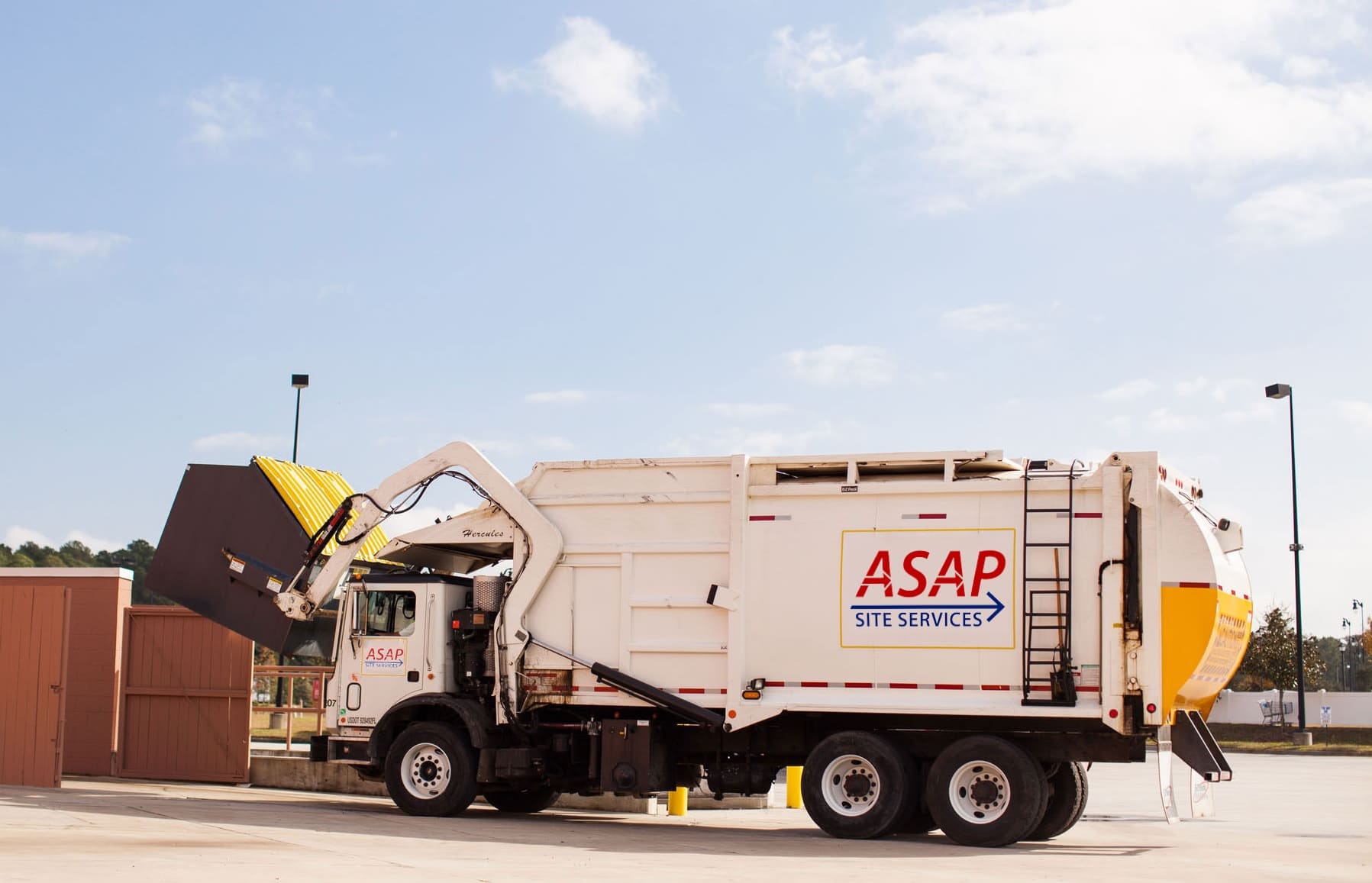 One weekly trash collection service is included in the base price of your Dallas dumpster rental. You can order extra servicing for an additional fee per day—if you need garbage picked up every day of the week, we'll take care of it. Your pickups will take place on the same days each week (for example, every Tuesday and Friday), but you can request individual off-schedule pickups for a charge.
All waste must fit entirely within the dumpster (below the lid) when your providers arrive for pickup, or you'll be charged for overfilling. There are no specific weight limits for commercial dumpster rentals, but if a load is ever too heavy for the garbage truck to lift, the providers will leave without taking your trash and you'll be charged a dry run fee.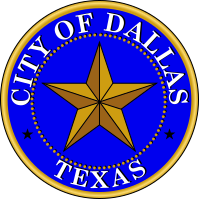 Considerations and Precautions for Dallas Commercial Dumpster Rentals
Front load dumpsters can be used for municipal solid waste (MSW) and construction and demolition debris (C&D). MSW is everyday garbage, like food scraps, paper towels, packaging, and old clothes, while C&D includes metals, plastics, wood, rocks, branches, etc. You may not dispose of hazardous materials, medical waste, or electronics in a front load dumpster.
If your business produces a lot of paper, empty bottles and cans, or other recyclable waste, we recommend that you order a separate 8-yard recycling dumpster along with your standard dumpster to encourage sustainable practices. Less common recyclable materials like clean dirt, manure, tile, and metal shavings will need to go in special clean dirt and concrete dumpsters, which are available by request.
Before you place a Dallas dumpster rental order, make sure there is a safe and accessible placement area at your location. The ideal placement site has enough room for at least double the size of your dumpster, and a garbage truck must always be able to reach it easily. If your dumpster is in an open area, we recommend ordering a bar lock to prevent unauthorized people from using it after hours and/or a bear lock to keep animals from making a mess.
ASAP operates all over Dallas to provide reliable commercial dumpster rental services to your community.
Coppell
Plano
Frisco
University Park
Flower Mound
Southlake
Richardson
Murphy
Fairview
Colleyville
Allen
Highland Park
Consult your local government to see if your neighborhood is currently managed by a franchise provider. In the event that it is, your service rates will most likely be higher.
Find Your Local Pricing & Order Today!
Order Roll-Off Dumpster Rental in Dallas Today
If you have any questions about our rental products or our garbage collection procedures, please reach out to us. We would be happy to walk you through our process. When you're ready to order, fill out the online form or call (888)413-5105 to receive commercial front load dumpster rental in Dallas, TX for your Dallas-based business.
For customer care you can depend on and below-market rates, look to ASAP Site Services. Let us do the heavy lifting so you can focus on serving the Dallas community.