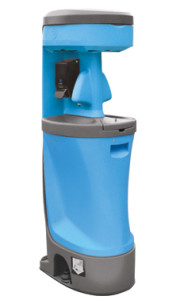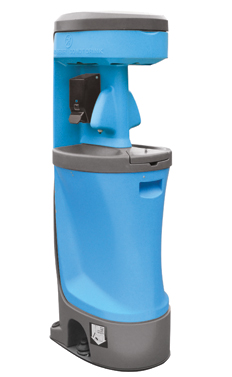 Single-unit porta potties are the go-to sanitation solution for most public events and work sites. If the occasion isn't as formal as a wedding or gritty enough to require shower trailers, single-unit rentals should get the job done—but they'll need some help.
Single-unit porta potties are just toilets, and while that may be the most important element, you'll need accessories to make sure everyone at your site is comfortable and practices good hygiene. Certain add-ons make placement and servicing more convenient as well. Here are the top five portable toilet accessories to order for your project or event:
1.      Portable Sink
Nobody likes using a public bathroom without being able to wash their hands. Unless you order a portable toilet with a sink installed, it's a good idea to have a separate portable sink with a soap dispenser for every set of porta potties at your location.
2.      Hand Sanitizer
If sinks aren't right for your site, getting hand sanitizer for your porta potties is a simpler solution. Sanitizer units take up less space than a sink and don't require people to stand at the station for 20 seconds at a time, so your guests and employees can clean their hands without creating a line. A local provider will refill hand sanitizers, soap dispensers, and other portable toilet supplies when they come for sanitation servicing.
3.      Containment Tray
Even the most careful providers can't help letting some cleaning fluids and other wash down elements slip during servicing. Ordering containment trays for each of your portable restroom units will keep the wash down from getting on the ground, protecting the environment at your site. Containment trays are as easy to pump out as the toilets themselves.
4.      Mobile Trailer
If you need a lot of porta potties for your event or project, placing and relocating them all around the site will be tedious and time-consuming. With a mobile trailer, you can put your portable toilets on wheels and cart them back and forth easily.
5.      Portable Toilet Lock Kit
When your event or construction site is closed for the night, your toilets should be too. A porta potty lock kit will keep vandals and trespassers from entering your rentals, keeping your facilities intact and your site secure.
Portable toilet accessories solve a lot of the problems first-time event planners and project managers don't think of when arranging sanitation for their site. If you aren't sure which add-ons you'll need for your occasion, call ASAP Site Services at (888) 413-5105 or start your order today. We'll discuss your requirements and recommend the accessories that will make your event a success.