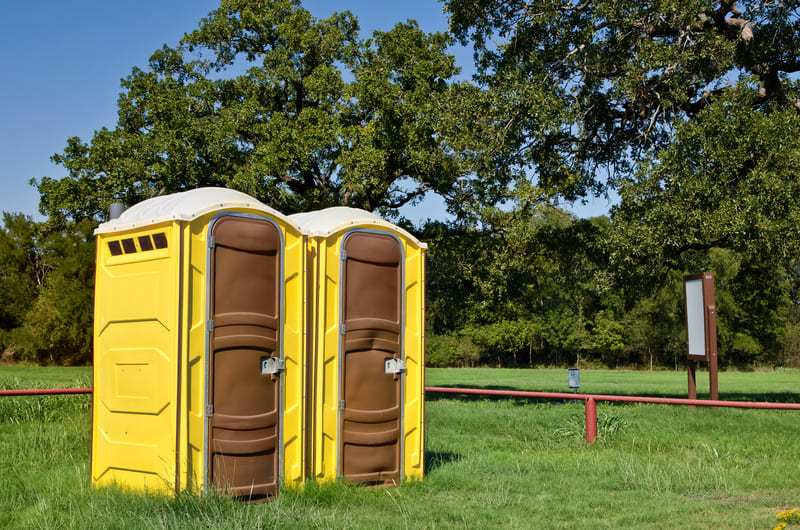 Porta potties: They're a staple at commercial construction sites and a beacon of relief amid the crowds of an outdoor music festival. They're something you probably see nearly every day and don't give much thought to, but if you're running a business or planning an event, you could be in need of porta potties without even realizing it. Below we'll detail some of the less common locations that benefit from temporary toilet solutions. If you haven't thought of some of these yourself, we're sure your guests and customers have.
1.      Backyard Parties
The situation: You're hosting a large backyard barbecue for friends and family, and while there's enough meat on the grill for everyone, your home only has one bathroom. You want everyone to be comfortable and have a good time, and maybe you want your bathroom to remain your own private sanctuary too.
The benefits of renting a portable restroom for your party are twofold: Your guests have access to more than one toilet, and you don't have to worry about stocking extra supplies or cleaning up afterward. The delivery, servicing, and removal of porta potty rentals is as easy for small parties as anything else, so you can just focus on the grilling.
2.      Golf Courses
Unlike other sports, golf is popular for its slow and steady pace. The vast rolling greens of a golf course offer space to think and room to roam, but for all the virtues of a wide open landscape, bathrooms can be too scarce. Keeping your club members, your caddies, and your pros happy and comfortable may have a lot to do with strategically placing portable toilets throughout the course.
3.      Campsites
For many, there's no relationship more nurturing than the one we have with nature. Sleeping under the stars brings new perspective, while a day-long hike followed by a campfire dinner brings peace and calm to busy lives. The further you go into the wild, the calmer you feel. Unfortunately that often means distancing yourself from all things civilized, including bathrooms. Well-placed portable toilets in camping areas can be the difference between an unforgettable wilderness retreat and the dark side of roughing it.
4.      Landfills
For folks in the waste management services, a trip to the landfill often means an all-day job of loading, hauling, and dumping refuse on the outskirts of town. It also means they may go hours without access to a restroom. That's why landfills are prime spots for porta potty rentals. They're just as dependent on portable bathrooms as any other worksite.
5.      Parking Lots
We rely on parking lot attendants to keep our cars safe and provide guidance on where to park and how to pay, but without access to an onsite porta potty, they may be compelled to leave the lot at the wrong time. Providing porta potties for parking lot attendants not only ensures their comfort on the job but also keeps the lot running smoothly.
6.      Disaster Areas
When disaster strikes, be it a fire, flood, or tornado, confusion reigns. Amid the efforts to clean up debris, look after those affected, and bring order to the scene, some details may be missed. The best time to plan for responding to a disaster is before it happens, and an important part of being ready is having porta potty rentals standing by.
Sometimes a porta potty, or lack thereof, is the thing that makes or breaks an event or a job. ASAP Site Services offers cheap porta potty rentals for parties, camping areas, weddings, landfills, and all kinds of recreational events and worksites. If you're considering portable toilet rentals for your event or business, get in touch with us today. We'll be happy to discuss your needs with you and give you all the details about our rental process.