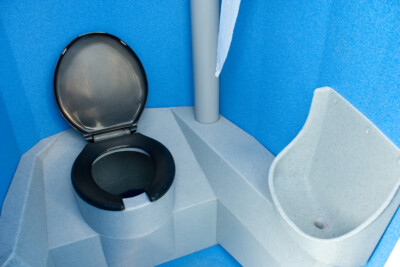 Porta potties aren't the most glamorous topic, but they're a necessary presence among many an outdoor event or construction site, and when maintained properly, they can be a welcome addition to any location.
When you rent porta potties from ASAP Site Services, whether it's a single-unit toilet or a five-stall portable restroom trailer, we don't just set them and forget them. Your rental comes with weekly servicing—and additional porta potty cleaning services for an extra charge if you'd like—in which our technicians will come to your site to make sure your porta potties are in the best location, fully stocked, and clean as new. Read on to learn more about what our porta potty service includes.
Relocation
When you initially picked a placement area for your porta potties, it was probably easily accessible and well-lit—a good fit at the time. However, it's possible that rain or heavy foot traffic from temporary fencing has degraded the ground around it, and making your guests or employees tromp through mud to get to the restroom isn't ideal. We'll assess whether or not your porta potties' current location is still a good fit, and if not, we'll move them for you.
Emptying the Tanks
A porta potty can only be used so long before it holds all it can hold. By pumping out the tanks at least once a week, we make sure you never get to that point. When our provider visits your site, they'll make sure the tanks are empty and ready for the next crowd of concertgoers or your construction crew.
Cleaning and Sanitizing
Keeping units sanitary and users healthy is our top priority. We'll clean each portable bathroom unit top to bottom and sanitize all surfaces with an antibacterial porta potty cleaner solution.
Restocking Supplies
There's nothing worse than finally making it across the grounds of a music festival or crowded job site to find that the portable toilets are out of supplies. We'll make sure your guests or crew have everything they need at all times by restocking supplies. For portable toilets, we'll make sure there's toilet paper. For restroom trailers and portable sinks, we'll also make sure there's plenty of soap and paper towels. All hand sanitizing stations will get antibacterial hand sanitizer refills as well.
Transporting Waste
Once we're satisfied with the condition of your porta potties, we'll wrap up our visit and transport your wastewater to the appropriate facility. Each municipality has its own guidelines as to how to do this safely and legally, so our procedure may vary by location, but every member of our provider network is considerate of local disposal regulations.
When you rent porta potties from ASAP Site Services, you're not just getting the bathroom. You're getting weekly top-to-bottom porta potty services from a team who's dedicated to keeping your facilities clean and your guests or employees safe and happy.