Why Rent Fencing and Barricades?
Our selection of temporary fences and barricade rentals can meet any traffic or crowd control challenge, whether you're running a musical festival or doing construction near a busy street. Temporary chain link fence rentals or fencing panels are great for establishing boundaries, like festival grounds within a public park, and for keeping people out of dangerous areas or private property, like an active construction site. Add gates and padlocks to your setup to keep unauthorized personnel out of certain areas or protect your space overnight. You can also order blackout screens to prevent prying eyes from seeing through your temporary fence installation.
Barricades are better for traffic control, both vehicular traffic and foot traffic. Traffic barrels guide cars through makeshift parking lots or around roadwork, while strategically placed crowd control barricades help form lines and keep public event attendees moving at a steady pace instead of jamming together at an entrance point. We also sell sandbags you can pile up to create additional crowd control barriers.
Fencing and Barricade Rental Pricing
ASAP offers temporary fence and barricade rentals for lower costs than you'll find anywhere else. Here's a list of average prices for each type of rental product option:
Fencing Panels With Stands:

6 feet high:

[shortcode variable]

8 feet high:

[shortcode variable]

Chain-Link Fencing With Posts:

6 feet high:

[shortcode variable]

8 feet high:

[shortcode variable]

4-Foot-Wide Gates

6 feet high:

[shortcode variable]

8 feet high:

[shortcode variable]

12-Foot-Wide Gates:

6 feet high:

[shortcode variable]

8 feet high:

[shortcode variable]

24-Foot-Gates:

6 feet high:

[shortcode variable]

8 feet high:

[shortcode variable]

Barricade Barrels:

[shortcode variable]

Crowd Control Barricades:

[shortcode variable]

Each barricade is 8.25 feet wide

There is a one-time $20 NTO fee for barricade rentals
These prices may vary depending on availability in your area. To receive a personalized quote for your temporary fences and barricade rental order, enter your zip code.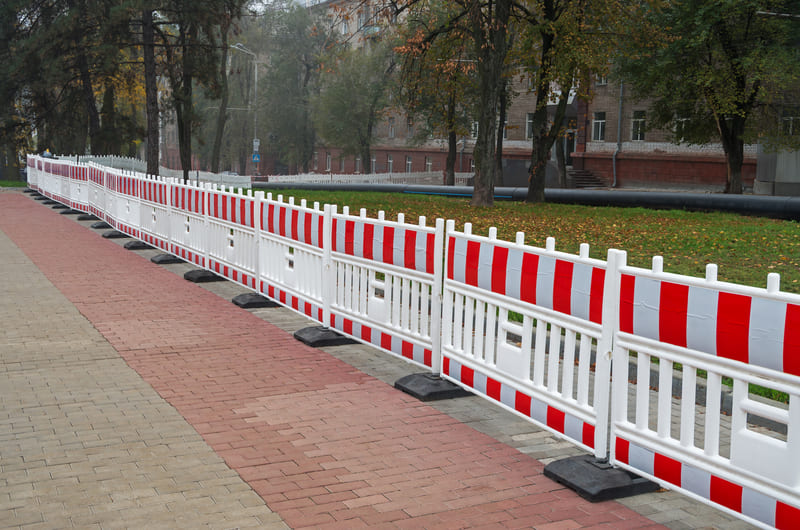 Beginning and Ending Your Rental Period
Please order your rentals at least one day in advance of your preferred delivery date to ensure availability and timely delivery. When you place your order, either online or over the phone, let us know what you plan to use your temporary fencing rental for and leave detailed instructions for placement and installation. Our local service providers will deliver your rental products and install them at your site per your instructions.
When you're ready to have your temporary fence rental removed from your site, please get in touch with ASAP Site Services directly. We'll arrange pickup promptly and start finalizing your bill.
Order Fencing and Barricade Rentals Today
To rent fences and barriers for crowd control, guiding traffic, and property protection, call (866) 413-3908 or start an order online. If you have any questions about which temporary fencing panel and barricade products will be most appropriate for your public event or construction project, we'll be happy to make recommendations.
ASAP Site Services promises high-quality rentals and excellent customer service at the most affordable prices nationwide. We look forward to helping you make your next special event a success.