Serving the Greater
New York Area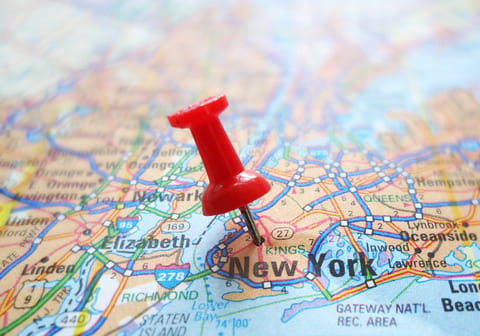 Commercial Dumpster Rentals
ASAP Site Services is the top provider of commercial front load dumpster rentals in a variety of sizes for your business. Get the best dumpster rentals prices available. Order today.
2-Yard Front Load Dumpster
4-Yard Front Load Dumpster
6-Yard Front Load Dumpster
8-Yard Front Load Dumpster
Order Commercial Front Load Dumpsters
Commercial Dumpster Rental Pricing in New York
We work together with New York city vendors to bring you front load dumpster rentals at the lowest prices in the city. If you decide that our commercial dumpster rentals and trash collection services are a good match for your needs, we will require a one-year contract, with the approximate amounts listed below to be paid every 28 days. Here are our average prices for each commercial dumpster size in New York.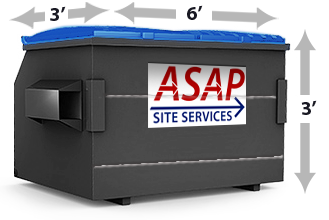 2-Yard Front Load Dumpster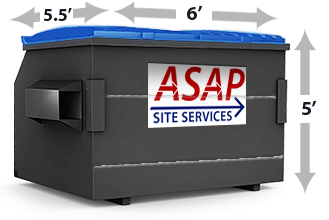 4-Yard Front Load Dumpster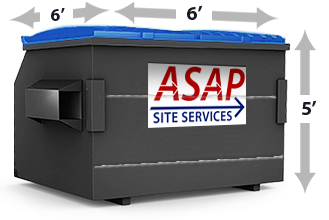 6-Yard Front Load Dumpster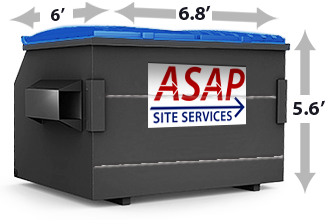 8-Yard Front Load Dumpster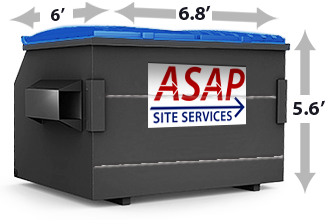 8-Yard Recycling Front Load Dumpster
At the beginning of your contracted rental period, you will be charged a one-time delivery fee of $75 for each unit. The ongoing rental price includes one weekly garbage pickup. Should you find you need additional servicing, you have the option to order more collections up to seven days a week. Additional pickups come at an extra fee per day.
Pricing for your order will vary depending on your location. If waste management in your area is currently managed by a franchise, your total will likely be higher because we have less flexibility to negotiate with these providers. Other variations in pricing are based on local landfill rates, city and environmental fees, and route density (the proximity of your business to other stops on the hauler's collection route). Input your zip code below to get a quote for your specific order.
Find Your Local Pricing & Order Today!
Why Rent a Front Load Dumpster?
Front load dumpsters take up less space than other dumpster options. They have a lid to keep contents and odors from coming out, and because they fit easily onto the prongs of a garbage truck, unloading them is simple. The majority of businesses in New York and nearby areas use commercial front load dumpsters to handle their trash. They are essential for serving all of the tenants of big apartment complexes. Bars and restaurants need them for discarding large quantities of food waste. Even smaller businesses that yield less waste than others use front load dumpsters to empty their indoor waste bins into.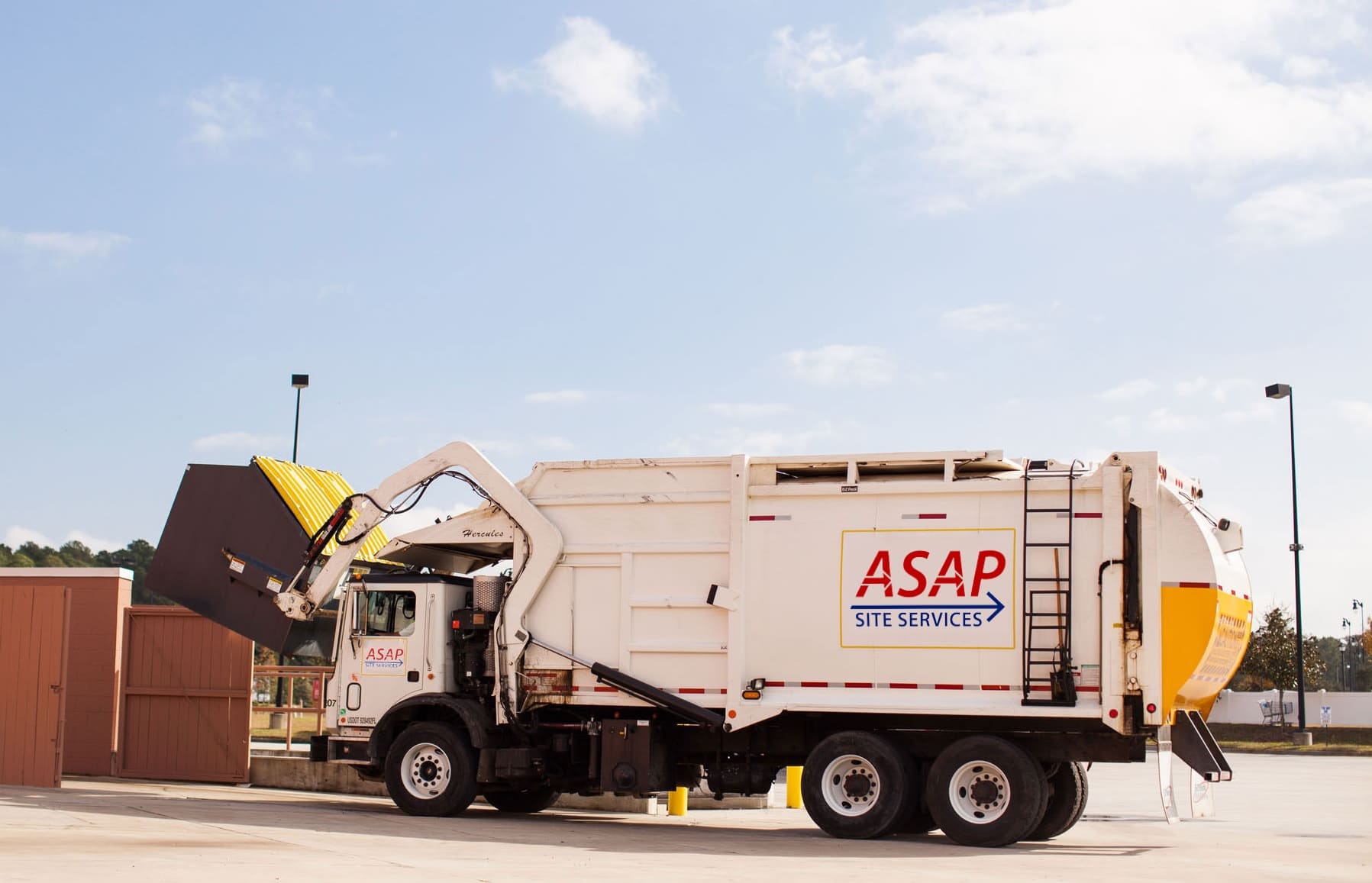 The base price of your commercial dumpster rental comes with one weekly trash pickup service. If you need your garbage picked up more frequently, you can order additional servicing for an extra charge per day. Your pickups will be scheduled to occur on the same days each week (for example, every Tuesday and Friday), but you can request individual off-schedule pickups at a cost.
When your providers arrive to collect your garbage, it is important that the contents of the dumpster are not spilling out of the unit. All waste must fit within the dumpster and the lid must be closed, or you will be charged for overfilling. Although there are no weight limits for commercial dumpster rentals, if your dumpster is ever too heavy for the truck to lift, the provider will not take your trash, and you'll have to pay a dry run fee.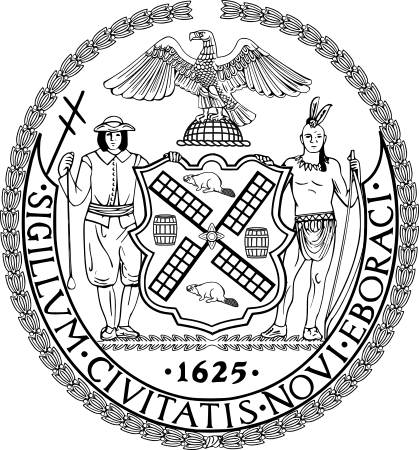 Considerations and Precautions for New York Commercial Dumpster Rentals
Front load dumpsters can be used to dispose of everyday garbage, like food scraps, paper towels, packaging, and old clothes, otherwise known as municipal solid waste (MSW). They can also be used for the disposal of construction and demolition debris (C&D). C&D includes materials such as metals, plastics, wood, rocks, branches, etc. Front load dumpsters cannot be used to discard hazardous materials, medical waste, or electronics.
If your business produces a lot of waste that consists of recyclable materials, like paper or empty bottles and cans, we recommend that you order a separate 8-yard recycling dumpster along with your standard dumpster rental. We also offer special clean dirt and concrete dumpsters if you need to dispose of less common recyclable materials like clean dirt, manure, tile, and metal shavings. 
Make sure you have a safe and accessible area to place your commercial dumpster rental before you order. Optimal placement sites are at least twice the size of your dumpster, and a garbage truck must be able to reach it easily. If your dumpster is out in the open, we suggest that you order a bar lock to prevent unauthorized people from using it after hours. Additionally, a bear lock will keep animals from plundering through your trash and making a mess.
ASAP and our local providers offer commercial dumpster rental services in New York  and beyond.
Jericho

Great Neck Gardens

Kensington

Syosset

Chappaqua

Bronxville
Thomaston

Herricks

East Williston

Greenville

Plainview

Scarsdale
Hauling in some NYC neighborhoods and cities or municipalities outside the city limits may be managed by a franchise. Consult with your local government's public works department to confirm who is in control of waste management in your neighborhood. If it is a franchise-managed area, your rental and service rates will likely be higher.
Find Your Local Pricing & Order Today!
Order Roll-Off Dumpster Rentals Today
Call (888) 413-5105 or use our online form to place an order for commercial dumpster rental services for your New York business. We are available to answer any questions you might have regarding our rental policies and waste collection processes.
ASAP Site Services is dedicated to providing superior customer service and reasonable pricing for New York business owners. We look forward to helping your business manage its daily operations so New York can remain the greatest city in the world.