Construction & Other Heavy Equipment Rentals
No Gimmicks. No Hassle Ordering. Upfront Pricing
Ordering is simple, and pricing is easy to understand. Order online using the Order Now button below, and we will take care of the rest from the beginning of your forklift rental period to the end! No worries.
Construction Equipment Rentals
Affordable Prices Nationwide
When renting construction and material handling equipment from ASAP Site Services, you'll receive top-quality customer service for the lowest available prices. Let us know how we can meet your needs by contacting us today. Select from these and other portable bathroom solutions.
Order Construction Equipment Rentals
Forklifts
Choose your electric forklift rentals from a variety of forklift solutions: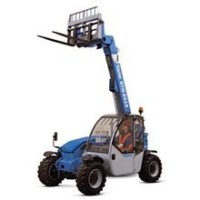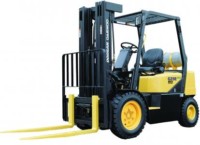 Variable Reach Forklift 5000 lbs 16-20'

These machines can efficiently lift, move, and place lumber, bricks, blocks, trusses, and other materials. All-wheel steering allows the machine to maneuver through crowded areas or effectively move into difficult-to-achieve positions. Full-time 4WD provides mobility in mud, sand, or on hard surfaces. Long wheelbase and low center of gravity enhance the machine's stability, and a low profile allows the machine to move through doorways or under overhead obstructions. Sway control also helps keep loads level on uneven surfaces.
The operator's cab offers convenient, easy-to-learn controls, excellent visibility, and protection from falling objects or roll-overs. Long wheelbase and mid-mounted engine for great mobility in mud, on hillsides, rock, and rough terrain.
Variable Reach Forklift 6000 lbs 40-49'
Combine the lifting power of an electric forklift and the utility of the crane with this telescopic telehandler. This unit can carry up to 6,000 lbs. of materials and reach up to 41'11" for heavy-duty jobs.
Maximum lift height up to 41'11"
Telescopic variable reach lift
Multiple steering modes available
Reduced-overhang chassis for improved visibility
Industrial Forklift Warehouse 5000 lbs Gas/LP
This warehouse forklift can assist with your lifting, moving, stacking, picking, or handling needs. With a lift capacity of up to 5,000 lbs. and a maximum fork height of 12'.
Maximum lift capacity up to 5,000 lbs.
Pneumatic tires
Two-stage mast for visibility
Maximum fork height 12'
Generators
Choose your rentals from a variety of generator solutions: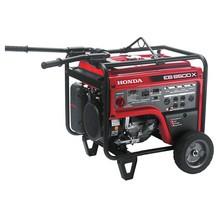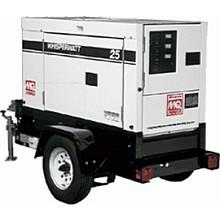 6.5-6.9kW Portable Generator, Gas Powered

Designed for construction and other demanding applications, this quiet gas generator delivers up to 6.9kW for tool power and voltage regulation in a rugged, compact package. Excellent for powering single or multiple tools on an entire job site or as emergency power. It can run up to 6.9 hours on one tank of fuel. Mounted on a wheeled cart to provide long, trouble-free operation, even in abusive environments. Ideal for powering tools such as compressors, grinders, and fusion welders.
Runtime up to 6.9 hours on one tank of fuel
Mounted on a wheeled cart for increased portability
Gasoline powered
Power up tools, equipment or light towers
15.2-23.2kW Towable Generator, Tier 4 Diesel Compliant

This mobile generator delivers reliable, clean power in an innovative, easy-to-use towable unit. Designed for long run times, features include a voltage selector switch and programmable settings. Enclosures are encapsulated for sound-attenuation. It meets or exceeds EPA Tier 4 diesel regulations for increased efficiency and safety.
Mounted to a highway-legal towable trailer
19-29kVA actual power capacity
Tier 4 compliant diesel engine
Power up tools, equipment or light towers
Lifts
Choose your rentals from a variety of lift solutions: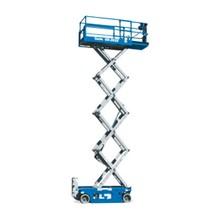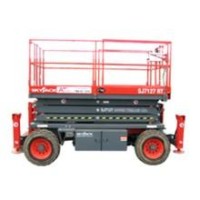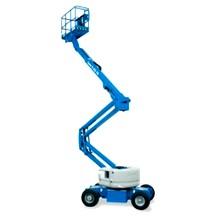 Scissor Lift, 19 ft., Electric Powered

When you need an elevated work platform but do not have the space for conventional scissor lift rentals, battery-powered "mini" scissor lifts are designed for construction, industrial maintenance, and warehouse applications on smooth slab surfaces. They will fit through a standard doorway even with the guardrails in position. These electric scissor lifts are compact, productive, and easy to operate.
Work in areas conventional scissor lifts cannot fit
Battery charger included for maximum uptime
Joystick drive and steering controls for easy operation
Narrow width for excellent maneuverability
Scissor Lift, 25 ft.-27 ft., 4WD, Electric Powered

They are efficient and compact, yet able to move between indoors and outside with four-wheel drive electric operation.
Working height up to 33'
Durable 4-wheel drive for moderately uneven or sloped surfaces
Includes pothole guards for increased safety
Clean and efficient electric operation
Articulating Boom Lift, 40 ft., Electric Powered

Electric-powered boom lifts ensure a clean worksite free of fumes. This 40' boom lift will reach narrow work areas and is ideal for driving on smooth, finished surfaces. Perfect for maintenance jobs or electrical work indoors.
Fume-free electric boom lifts are perfect for indoor work
Up and over height over 20'
2WD and 30% grade-ability appropriate for any indoor site and mild outdoor terrain
Platform rotates 180 degrees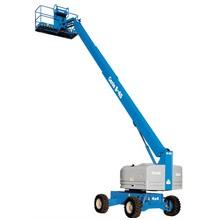 Boom 45-50' Telescopic 4WD

Telescopic boom lifts are perfect for construction, mechanical contracting, painting, glazing, electrical work and industrial maintenance. Straight boom lifts can be raised, lowered, and extended horizontally while the work platform remains stable and straight. You can maneuver and steer in any direction, even while the platform is extended. Four-wheel drive and 45% gradeability make driving the boom lift smooth and easy, so it is ideal for moving around outdoor job sites.
Stay stable with a self-leveling platform
Easily drivable at full elevation
Ideal for outdoor work such as electrical, lighting and maintenance
Fuel-efficient diesel engine
Lighting
Choose your rentals from a variety of lighting solutions: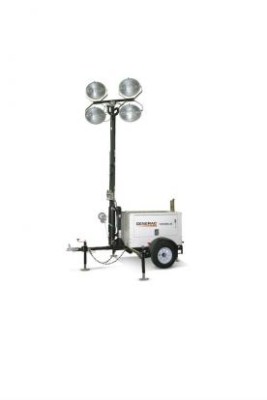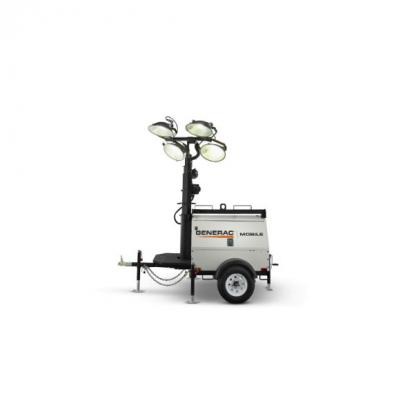 Towable Light Tower with 6kW Generator, 4,200W, Diesel

Provide instant and consistent light and power to your job site. Our diesel-fueled light tower's generator is outfitted with rugged frames and has an off-road capability. Setup and operation are easy. This lighting tower provides maximum illumination with multiple powerful halide fixtures per tower. The attached generator provides up to 6kW for tools and electronics.
Four 1,050W halide fixtures
Fuel-efficient diesel generator
No warming up or cooling down period
Convenient power for small equipment, hand tools and electronics
Light Tower 4-7KW Vertical Mast
Towable lighting towers provide bright light and power to your job site. Our diesel-fueled light tower's generator has rugged enclosures and off-road capability. You can set up and operate the tower easily. This lighting tower's four powerful halide fixtures provide maximum illumination. Power up tools and electronics easily and work smarter.
Four 1,050W halide fixtures on an extendable vertical mast up to 23'
Fuel-efficient diesel generator
359-degree rotational mast for total illumination on-site
120V and 140V convenient outlets for small equipment, hand tools and electronics
Loaders
Choose your rentals from a variety of loader solutions: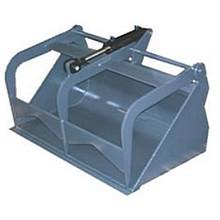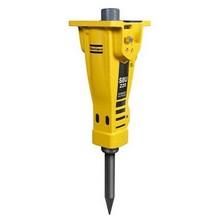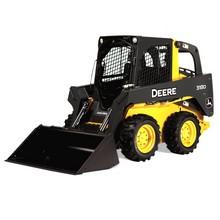 Skid Steer Grapple Bucket
Clear construction or landscaping sites easily with this grapple bucket attachment for your skid steer. Dual independent grapples are designed to pick up dust, leaves, fallen limbs and other debris while leaving the soil intact. Helix tooth design aids in putting material into the bucket. Instead of pushing material, this skid steer attachment pulls material, so you can clear or transport materials securely.
Handles difficult material with ease
Fork and bucket styles available
Easy to operate
Use Cases: Clear dust and debris while leaving soil intact at job sites
Skid Steer Breakers
Break up concrete, pavement, or other demolition jobs with this breaker hammer attachment for a skid steer. This 800 ft.-lb. hammer is ideal for concrete demolition, road repair and site preparation. It has an adjustable force range between 500-1,100 blows per minute (bpm). Its hydraulic flow is between 10.5 and 22.5 gallons per minute (GPM) to fit your skid steer system.
Efficient low-recoil design
Tool diameter 2.68" and hydraulic flow 10.5-22.5 GPM
Unit weight 500 lbs.
Use Cases: Ideal for breaking up concrete, pavement or other demolition jobs with this attachment to a skid steer
Skid Steer Loader 1700-1899 lbs
We offer a fleet of dependable skid steer loaders. From the farm to the construction site to the industrial plant, these compact and maneuverable machines are ready to tackle your jobs quickly and cost-effectively. Skid steers are excellent for digging, grading and leveling. These skid steer loaders are perfect for smaller to medium-sized duty in narrow sites.
Tipping load between 3,500-3,700 lbs.
Ideal for light to medium duty in narrow sites
Skid around corners easily
Bucket, breaker and auger attachments available
Excavators
Choose your rentals from a variety of excavator solutions: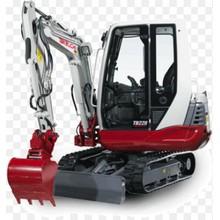 Mini Excavator 6000-6799 lbs

Our compact excavators (also known as mini-excavators) are perfect for your earthmoving needs in close working conditions. All models feature the all-hydrostatic drive system. Select from multiple dig depths, three arm configurations and three tail swing configurations. These mini-excavators are easy and safe to transport by pickup or trailer.
Rubber tracks included for wet or muddy terrain
Ideal for interior demolition on sites with weight restrictions
Digging depth up to 8.5'
Easy-to-use joystick controls
Find Your Local Pricing & Order Today!
Order Construction Equipment Rentals Today
Once you've identified your needs for forklifts, generators, lifts, lighting or loaders, place your order directly online or contact our heavy equipment rental services at (888) 364-5531. We have a varied construction equipment rental fleet to meet any construction need. We're happy to answer any questions you may have about our processes or how to accommodate your project or event properly.
When renting portable toilets from ASAP Site Services, you'll receive top-quality customer service for the lowest available prices. Let us know how we can meet your needs by contacting us today.