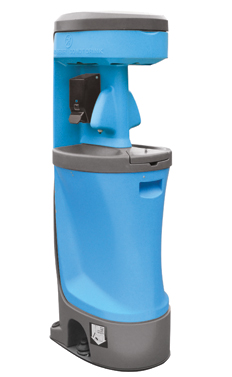 We offer several different styles of porta potties for any government job site. Depending on how many people you're expecting and how long you plan on staying in operation, you can decide which option would work best for your agency's needs. From single stalls to full restroom trailers, we have something for every occasion.
Single-unit portable toilets are the most commonly ordered rentals out of all our restroom options. These typical porta potties come with one standard weekly servicing, but your agency may order additional sanitation servicing for a charge. Alongside our regular portable toilets, it's always advised to have ADA-accessible porta potties at your government site as well. There are also portable toilet rental options with sinks built inside.
If you prefer not to order porta potties with built-in sinks, we strongly recommend ordering portable sinks on the side to serve as handwashing stations. Activated by foot pumps, these sinks provide roughly 600 washes per fill. They come with soap dispensers and paper towels that, like the water in the sink itself, are serviced and refilled at least once a week.
Lastly, ASAP Site Services offers restroom trailers for rent. If you're looking for portable toilet options for your government site that more closely resemble a full bathroom, restroom trailers are your best bet. They come with fully enclosed and flushable stalls, urinals, and sink stations that can provide hot water. To keep these restroom trailers tidy, there are plenty of trash receptacles inside as well. Depending on the size of your site, you can rent a two-, three-, or five-unit trailer to accommodate your guests accordingly.
Sanitation isn't the only safety concern at a government installation. From traffic barrels that direct traffic in parking lots to fences that protect the boundaries of the site, we have several ways to keep your government operation as safe as possible.
Our chain-link fence rentals can help establish site boundaries and protect the public from dangerous areas or sections that need to remain off-limits. Blackout screens are available for events and job sites that require a certain degree of discretion. Add gates and padlocks to your order and you'll have everything you need to establish a safe and secure area protected from public access and/or viewing.
If you expect a need for the public to form lines at your site, crowd control barriers are a good way to keep things organized so there is no confusion on who's next in line. On that same note, our traffic barrels can help to create a makeshift parking lot or prevent traffic jams.
Delivery and Pickup Logistics
As with any of our rental orders, we're happy to do all the heavy lifting involved in arranging portable toilets for your government site. We only ask that your site offer us an accessible, level piece of land to place the porta potties, portable restroom trailers, or sinks. Fencing will be delivered and set up per your instructions, so when you place your order, please be as detailed as possible so our team can install everything to your request. In most cases, all we need is one day of notice to make sure we're able to get all the equipment you've ordered to your site on time, but we appreciate the additional lead time. When you're ready to terminate your rental period, just give us a heads up directly so we can come out to remove the equipment and start finalizing your bill.
Putting an event or job site together for the government is a lot of work, but arranging for sanitation solutions and barriers shouldn't be. We're always happy to answer any questions you have or steer you in the right direction if you aren't sure what your agency requires for a particular occasion. Fill out an order form online or give us a call at (888) 413-5105 to place an order for portable restrooms for government sites.
Find Your Local Pricing & Order Today!