Renting Portable Toilets
There are many reasons to rent a porta potty. They are essential for public events such as festivals, concerts, and sporting events. Groups of single-unit portable toilets can accommodate hundreds, even thousands, of people on a given day. Not only that, but our porta potty rentals also come in handy for smaller, private events such as weddings or intimate parties.
Portable restroom rentals also support hard workers at construction sites and disaster relief areas. Certain outdoor recreation areas, such as campsites or golf courses, also benefit from our portable toilet rentals.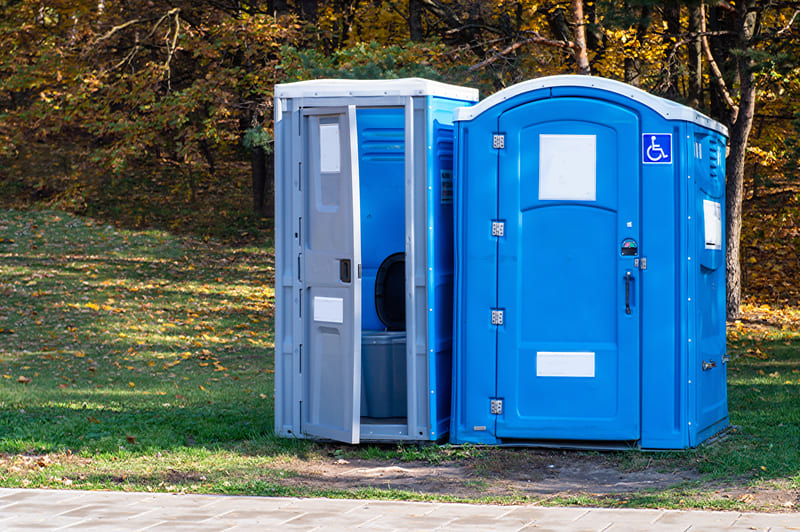 There are many factors to consider when determining how many porta potty rentals to order for events. You'll need to order enough to eliminate long lines for the bathroom and keep any units from overflowing between servicing visits. Before you order your portable toilet rentals, you should know how long your event will last and about how many guests you'll need each day. If you plan on serving food and drinks at your event (especially alcohol), you should order additional units as well.
For jobsites, our usual recommendation is to order one unit for every 10 workers in a 40-hour workweek. Be sure to consider whether you'll have multiple crews working different shifts in the same week.
Standard Porta Potty Rentals
If you only need the basics and you want the lowest possible portable toilet rental prices, standard porta potty rentals are the way to go.
Features
Our standard porta potties come with just a toilet. We recommend ordering separate sinks, handwashing stations, or sanitizers to accompany your toilets and give your guests or employees a place to freshen up.
When Are Standard Portable Toilets Enough?
If you're only looking for the basics when it comes to providing your guests or employees with a restroom, look no further. Our standard porta potty rentals are perfect for outdoor concerts, festivals, sports events, parties, weddings, or work sites.
No need to wonder "Are there porta potty rentals near me?" ASAP's services cover the entire nation at affordable prices. All we ask is that you place your order at least two days before your event or project begins so we can ensure availability and put together appropriate transportation logistics. If you are planning a large event, the more lead time the better—we recommend ordering at least a week in advance to accommodate your needs in those situations. When you are done with your rental, simply give ASAP Site Services a call (not the number on your porta potties). We'll arrange a pickup and finalize your bill.
ADA Porta Potty Rentals
ADA portable toilet rentals are necessary to accommodate any individuals with disabilities who may be at your event or on your jobsite.
Features
Our ADA porta potties are larger than the standard rental and provide more space for those with disabilities to use with ease. In order to comply with ADA guidelines, these portable bathroom rentals have a ramp at the entrance for easy access and a minimum 32" clearance height so that they are wheelchair accessible. Other features include Braille labeling, a door that closes with a hinge or magnet, and a large interior that leaves enough room for wheelchairs to do a 360-degree turn.
When Do You Need ADA Portable Toilets?
Just as restrooms in public buildings provide a handicap-compliant space for people, we recommend that you also provide ADA porta potties at large events and work sites to stay in full legal compliance. You'll want to ensure that you are providing the right accommodations for each and every guest. At least 5% of the porta potty rentals at a large event should be ADA-friendly, with one ADA unit in every cluster of toilets.
Portable Toilets With a Sink
Extra privacy and convenience are available with our portable toilets with a sink. These units supply all the necessities inside so people can freshen up without finding somewhere else to wash their hands.
Features
If you're looking for an all-in-one solution to your bathroom needs, our portable toilets with a sink are a great option. Along with a toilet, these porta potties come with a sink and soap dispenser in each unit.
Why Rent a Porta Potty With a Sink?
The main reason to choose our portable toilets with a sink is simply to offer your guests or employees more convenience. These units have everything your guests need to clean themselves inside. If you do not want to order our sinks, handwashing stations, or sanitizers separately, this is a great option.
High-Rise Portable Toilets
We're happy to provide options for larger construction projects. If you're looking to go sky-high with your building, our high-rise portable toilets will be a great option for your employees.
Features
Our high-rise portable toilets have a detachable roof so the units can be easily transported through doorways, hallways, or elevators.
Why Rent High-Rise Portable Toilets?
The higher your team goes while they're working on a tall building, the longer it will take them to reach the ground floor to find a bathroom and go back up, taking a lot of time out of their workday and slowing the construction process. High-rise porta potty rentals are easy to take up to higher floors so your employees don't need to go far to relieve themselves.
Find Your Local Pricing & Order Today!