How to Get Rid of Concrete Waste
It's important to know the weight and physical size of the materials you'll be removing before definitively choosing a concrete disposal solution. This will ensure that you don't pay for more than you need and that you can remove your concrete waste effectively.
Rent a Roll-Off Dumpster
One way or another, your concrete waste needs to be moved out of your work area. Roll-off dumpsters are a convenient and cost-effective way to get this done, helping you complete your removal project in less time than other disposal methods.
Roll-off dumpsters give you more control over the concrete disposal process. Rather than waiting on someone with unclear prices or load capacity to come to you, you can rent the right size of dumpster and keep it on site for as long as you need it. You can schedule your dumpster delivery for a particular time of day without having to be present, and when you've finished loading, you can call to have your roll-off dumpster picked up and taken to a concrete dump site where it will be properly recycled or disposed of.
Before renting a roll-off dumpster, you should know how much concrete you expect to have hauled away in cubic yards. This option is best for larger quantities of debris, and you will need enough room at your site to accommodate the dumpster size you're renting. Check out ASAP Site Services' roll-off dumpster rentals page for more information about our up-front pricing and the dumpster rental process.
Check the Classifieds
Contractors and landscapers often use the classifieds (and websites like Craigslist) to source materials for their work. Check these or create a listing of your own to have someone else come pick up your debris.
While this option is free and allows for concrete recycling, it is not a guaranteed method for removal, and you'll have little control over when your debris can be removed. This is also not a great option for large quantities of concrete, since people looking in the classifieds usually do not have the industrial carrying capacity of concrete trucks and roll-off dumpsters.
Leave Your Concrete Out With a "For Free" Sign
If you don't want to deal with dumpster rentals or classifieds, you can always take your chances with leaving your debris outside with a sign telling anyone in the neighborhood they can take it. This is not a guaranteed method of concrete disposal or recycling, since you can't know if it will all be taken at once. This is also not a good choice if you have a large amount of material to dispose of.
Hire a Junk Removal Company
Junk removal is a beneficial option when you can't or don't want to move the waste around yourself. However, this method requires that you be present for pickup, and your quoted cost may change after the disposal company arrives. You should also know that most junk removal companies are only equipped to haul 2 tons of material, or one-fifth the capacity of a standard concrete roll-off dumpster. ASAP Site Services offers dependable, low-cost junk removal—check out our Junk Removal services page for more information.
Dump It Yourself
If you have a truck and a small enough load of concrete waste, you can always handle the disposal yourself. While this method allows you to work at your own pace, it may require multiple trips to your local dump (which can be far away, depending on your location). Before dumping concrete yourself, make sure your local concrete dump site is open to the public and willing to accept your materials.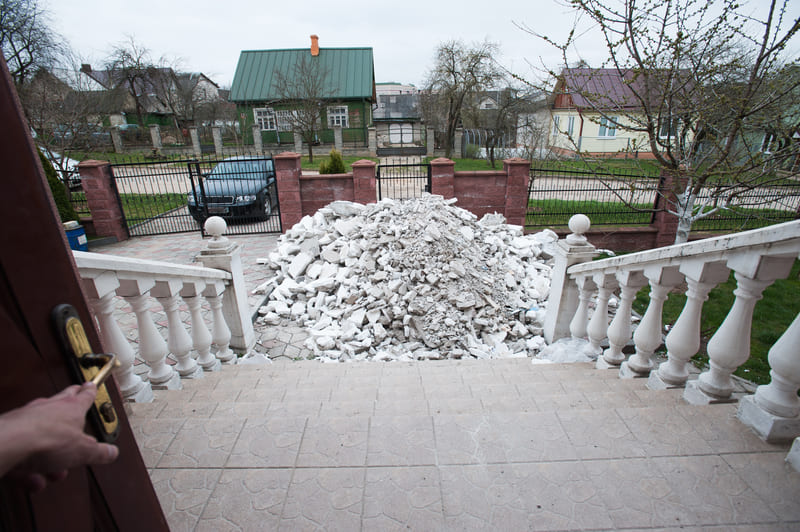 Where Can I Dump Concrete?
Concrete dump sites differ on the materials they will accept and how much they will charge you. Some will accept a particular material for free for a limited time, and others will have more standardized prices for the concrete they will take from you. If you're wondering where to dispose of concrete, it would be best to call around your local dump sites to see how much and what kinds of debris they will accept, as well as how much it will cost.
Where NOT to Dump Concrete
You should never dump your cement or concrete waste on private property other than your own. You should also avoid dumping it on public property, especially in parks and protected wildlife areas.
How Much Does Concrete and Cement Disposal Cost?
To most accurately calculate the total cost of your concrete waste disposal project, you should first know how much debris you plan to remove. Determining this information in both weight and cubic yards should help you select the best method for removal and the variations in pricing.
Pricing is often calculated by the truckload or dumpster-load (dumpsters cannot be overfilled without you incurring extra costs). For reference, the two-ton carrying capacity offered by most junk removal trucks means you can only stack your debris about a foot high. A 10-yard concrete roll-off dumpster can hold 10 tons of concrete stacked three-and-a-half feet high.
A 10-yard, 10-ton clean concrete roll-off dumpster will cost between $379 and $697 for a 10-day rental on average. These prices are cheaper than standard roll-off dumpsters because clean concrete is recyclable. The caveat for this option is that the dumpster's contents must be homogenous—you cannot throw out other materials along with clean concrete in the same roll-off dumpster.
Comparatively, you will pay an average of $32-$40 per ton to dispose of concrete at most landfills. The cost of hiring a junk removal service will vary depending on your location and the amount of concrete you need removed. These services can cost as little as $100 and as much as $800.
Concrete and Cement Recycling Options
Take It to a Concrete or Landscape Supplier
Many landscaping and concrete suppliers will accept old, broken concrete. Typically, they will let you drop off your concrete at their facility, where it will be broken further to get used as gravel or in concrete aggregate for parking lots and roads. You can search online or call these suppliers to see which is the best option for recycling your concrete.
Use It in Your Own Landscaping
You'll find many different ideas online for DIY landscaping projects that use old concrete. Homeowners often use this waste to make simple firepits or flower beds, but there are other projects you can incorporate your old concrete into that vary in difficulty. If you have a lot of concrete waste that you'd like to repurpose, you might consider building a privacy fence or a retaining wall. Made by filling gabions (wire cages of varying sizes) with broken concrete, these walls are a functional and aesthetically pleasing option for concrete recycling.
Find Your Local Pricing & Order Today!