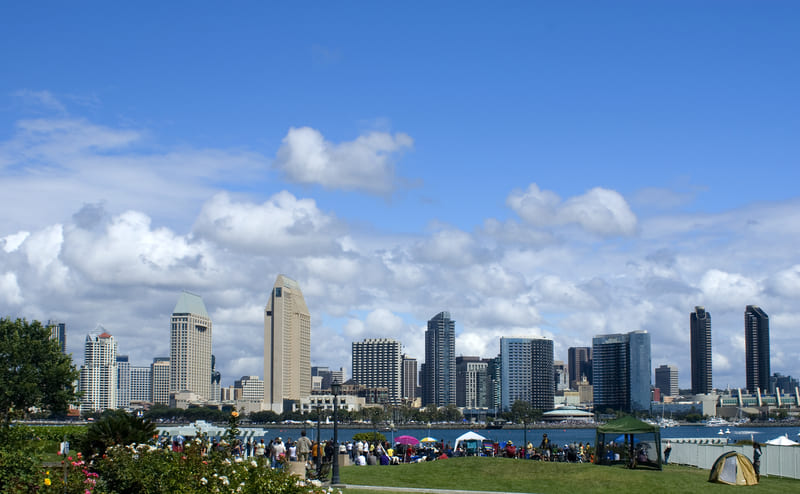 If you're looking for paradise in the United States, San Diego is as close as you can get. This quintessential Southern California city is famous for its warm weather, palm trees, Spanish architecture, and its beautiful views of the bright blue Pacific. It's as idyllic a place to hold an outdoor event as any.
Whether you're planning a reunion, wedding, corporate event, quinceañera, or baby shower, you can find perfect outdoor venues all over San Diego. Learn more about five of our favorites.
Ranch Events
Ranch Events specializes in weddings, parties, and corporate events. They have many venues along the coast, in South Bay, and in North and East Counties. Whether you're aiming for elegance or something more casual, they'll outfit your event with gourmet catering, quality rental equipment, and other amenities, including:
Heaters
Bars
Umbrellas and canopies
Banquet or conference tables and chairs
Linens and dishes
Booking prices vary by venue, as does the parking situation. Their Golden Hall location is near a parkade, accessible from three locations: First and B, Second and A, and Third and B Streets. Refer to each venue's web page for more detailed parking information.
Capacity at different Ranch Events venues ranges from 10 guests to 10,000. With high standards for new COVID-19 procedures, this company makes your event as safe as possible. They're even offering delicious takeout during the pandemic.
Quartyard
Quartyard was transformed into a sustainable "cargotecture" urban park for private events and community activities in East Village. While smaller parties can enjoy lower rates, the average base rates for a rental duration of four to five hours are as follows:
Weekdays: $1,500+
Weeknights: $2,500+
Weekends: $3,000-$5,000
Features include an eatery, a dog run (currently closed due to COVID-19), a full-service beer garden, art space, a coffee shop, live music and entertainment, and six bathrooms. Weeknights are better for finding street parking, but there are several paid lots close by.
Quartyard can host up to 500 people, but they've instituted several strict policies to keep guests safe from the coronavirus, enforcing:
Rigorous disinfecting
PPE and mask use
Health screenings
Handwashing
Social distancing
You and your guests will experience the utmost care and caution at this venue.
Lot 8 Events
Once a parking lot, this lush outdoor event space with living walls will host, cater, and coordinate every kind of event from A to Z. Centrally located on Hotel Circle—right off the 8—it ranges in price from about $2,000 to $3,000. Notable amenities include:
Fully equipped kitchen
Horse trailer bar
Drinks and coffee
Tables, chairs, and linens
Decor
DJ
While Lot 8 offers parking packages for larger events, valet parking is available just down the street. If your guest list is 100 to 200 names long, this venue is perfect. Call ahead for reservations and COVID-19 details. You'll love this beautiful, innovative San Diego location.
Meritage Collection
Combine adventure with luxury at Meritage's comfortable, sprawling resorts. The environments at these extraordinary venues include mysterious caves, lush vineyards and gardens, and stunning beaches overlooking the Pacific. Hotel pricing starts at around $200 a night, but individual rooms vary. Watch for special offers!
Meritage's Estancia location is the closest one to San Diego. On this nine-acre property, you'll find amenities like:
Garden and dining area
Outdoor game library
Guest rooms
Hotel and spa
Yoga
Currently, they offer only self-parking, since electric parking is unavailable while COVID-19 is an issue. Capacity for outdoor gatherings begins at 66 for most events and ranges from 90 to 420 for weddings. The sprawling Woodlands location can host larger events.
Meritage's Estancia venue currently has stringent hygiene procedures:
Daily temperature checks
Masks required
No paper policy
Distanced dining
Abundant hand sanitizer
A texting system helps guests and employees maintain social distancing. Most notably, Meritage is offering flexible cancellations until April 30, 2021 so you can cancel or reschedule your event without penalty.
The Centre
This huge Escondido location on Auto Park Way comprises four different outdoor venues. The all-expenses paid pricing, which starts at just $1,000 for 100 guests, includes everything you could ever dream of for any event:
Craft coffee
Vintana Wine and Dine
Fine art gallery
Hair salon
Virtual golf simulator
The Centre is notable for its business relationship with Lexus and the AutoJoyment experience, which includes a private tour of the complex, a chance to drive your favorite Lexus, and a gift card to Vintana. It's every car lover's dream.
For small outdoor events, capacity ranges from 15 to 100 people. Large events can host 300 to 600 guests. Call ahead to learn about COVID-19 procedures and any changes to policy.
Contact ASAP for Your Next Event
Any of these superb locations will make your events in 2021 unforgettable. Whenever you plan an outdoor event, however, remember that you might need to plan ahead for sanitation solutions, waste management services, and other event services to keep the site clean and your guests satisfied that may not be included with each outdoor event space.
ASAP Site Services can provide everything a successful outdoor event requires. We offer portable toilet and restroom trailer rentals, dumpster rentals, tent and table rentals, and much more, all for the lowest prices available in the San Diego area. Once you've booked one of these excellent venues for your event, contact ASAP and let us know how we can help.