Fully Compliant Agriculture Waste Solutions
As we mentioned above, regulations have become more stringent regarding food production safety. Inspections are commonplace, and having the right agriculture portable restrooms on site will ensure that fines aren't levied against your farm.
Guidelines for field sanitation mandated by USDA and OSHA state that one agriculture portable toilet and one handwashing station must be on site for every 20 employees. Restrooms are to be separated for men and women, the toilets must be well-maintained, and facilities must be within a quarter mile of the working area or the closest driving distance to suitable terrain.
Our agriculture portable toilet rentals can be delivered to work sites and placed exactly where they need to be by our dedicated teams of local providers. On top of our agricultural porta potty rentals, we offer handwashing stations, restroom trailers, and shower stalls that can transform a work site into an immaculate space in no time at all.
We also offer ADA-compliant agriculture portable toilets to accommodate workers with physical disabilities. We can help you choose the right amount of handicap-accessible units for your jobsite to make sure all of your employees are comfortable.
Giving your employees easy access to sinks and bathrooms is great for both morale and productivity. With agriculture portable toilets placed in convenient locations, your field workers won't need to trek long distances just to use the bathroom.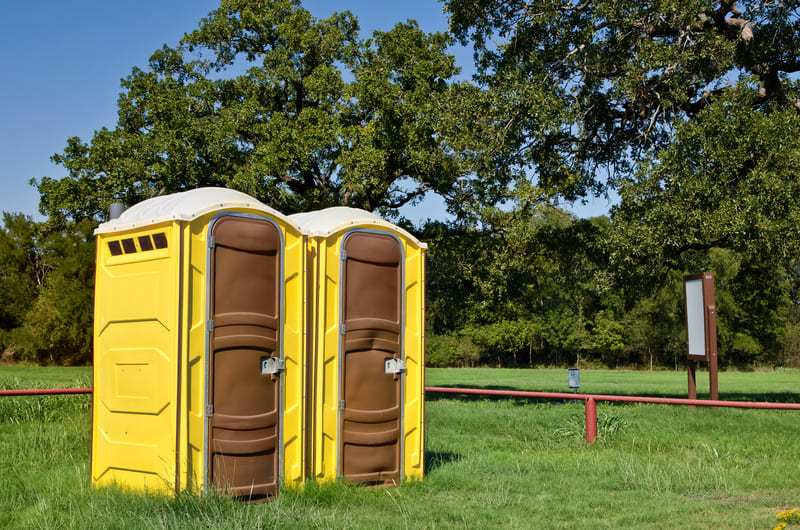 The base price for our agriculture portable toilet rentals includes one sanitation service per week, during which our local providers will pump out the tanks, clean and sanitize each unit, restock supplies like soap and toilet paper, and move toilets around your site if necessary. We'll transport the waste to a local wastewater facility to be properly disposed of per government regulations. Additional sanitation servicing is available by request for an extra charge per visit.
Here is a list of the agriculture waste solutions we can provide for your farm:
Standard Portable Toilet: single stall for men or women
Portable Sink: portable handwashing stations are a necessity when handling food, as employees are required to wash their hands before beginning or returning to work
ADA Handicap Toilet: single stall that meets guidelines for ADA compliance
Portable Toilet With Sink: single stall equipped with built-in sink
Restroom Trailer: multiple-stall trailer usable by several individuals at once, with accommodations like sinks, lighting, mirrors, and trash receptacles
Shower Trailer: a set of showers that allows employees to clean themselves up after a long workday
Ordering Agriculture Porta Potty Rentals
When placing your agriculture portable toilet rental order, please give us at least two days of lead time to make sure all requested units are available and delivered on schedule. For large orders, we recommend submitting your request a week in advance. We are sometimes capable of fulfilling same-day deliveries, but lead time is strongly preferred.
We make ordering as convenient as possible and have team members ready to talk to you on the phone. This is the best way to contact us if you have questions about where to place your agriculture portable restrooms, how many you'll need, and other topics. If you already know what you require, it may be easier for you to place your order online.
While the regulations and industry standards have become more strict, inspections have become more prevalent, and sanctions are issued at higher rates, there's no need to worry about anything when you collaborate with ASAP Site Services. We'll take care of all the agriculture waste solutions you need to succeed.
Find Your Local Pricing & Order Today!