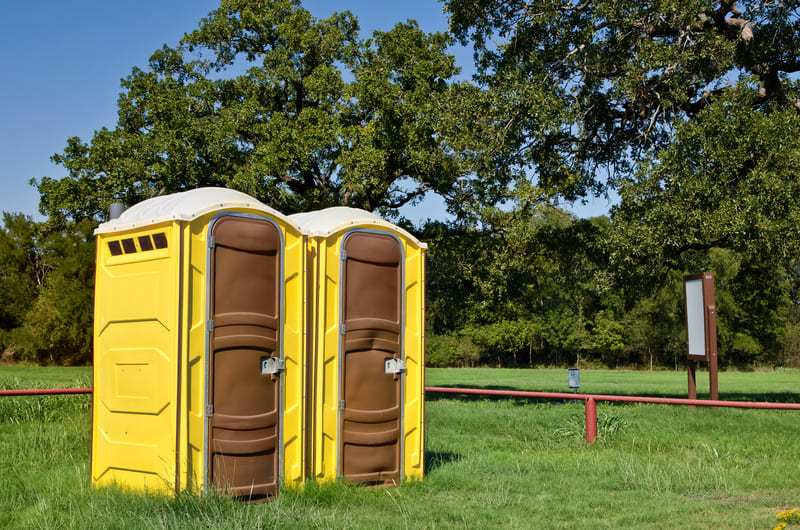 Single-Unit Flushable Porta Potties
Our single-unit flushable porta potty rentals are very similar to a standard porta potty in size, which means you should be able to fit the same amount of them around your site as you would basic portable toilets. Not only do flushable porta potties help control odor, but they also help create a safer environment for users since waste is not left in the open. By flushing the waste into a sealed holding tank, the bacteria will be hidden away with sterilizing chemicals, eliminating many of the harmful particles that could be floating in the air.
Flushable Porta Potties at Weddings
Weddings are known for their elegance and romantic atmosphere, so many couples find that using flushable porta potties for their outdoor wedding is more appropriate than defaulting to the basic units. A portable restroom trailer with flushing toilets is another popular option for wedding ceremonies (more about those below). The ability to flush will help maintain the more refined environment most couples are going for on their wedding day, and it will grant their guests a greater feeling of privacy. Along with the other benefits of flushable porta potties mentioned earlier, flushing portable restrooms contribute to the greater level of comfort and cleanliness you'd expect at a wedding.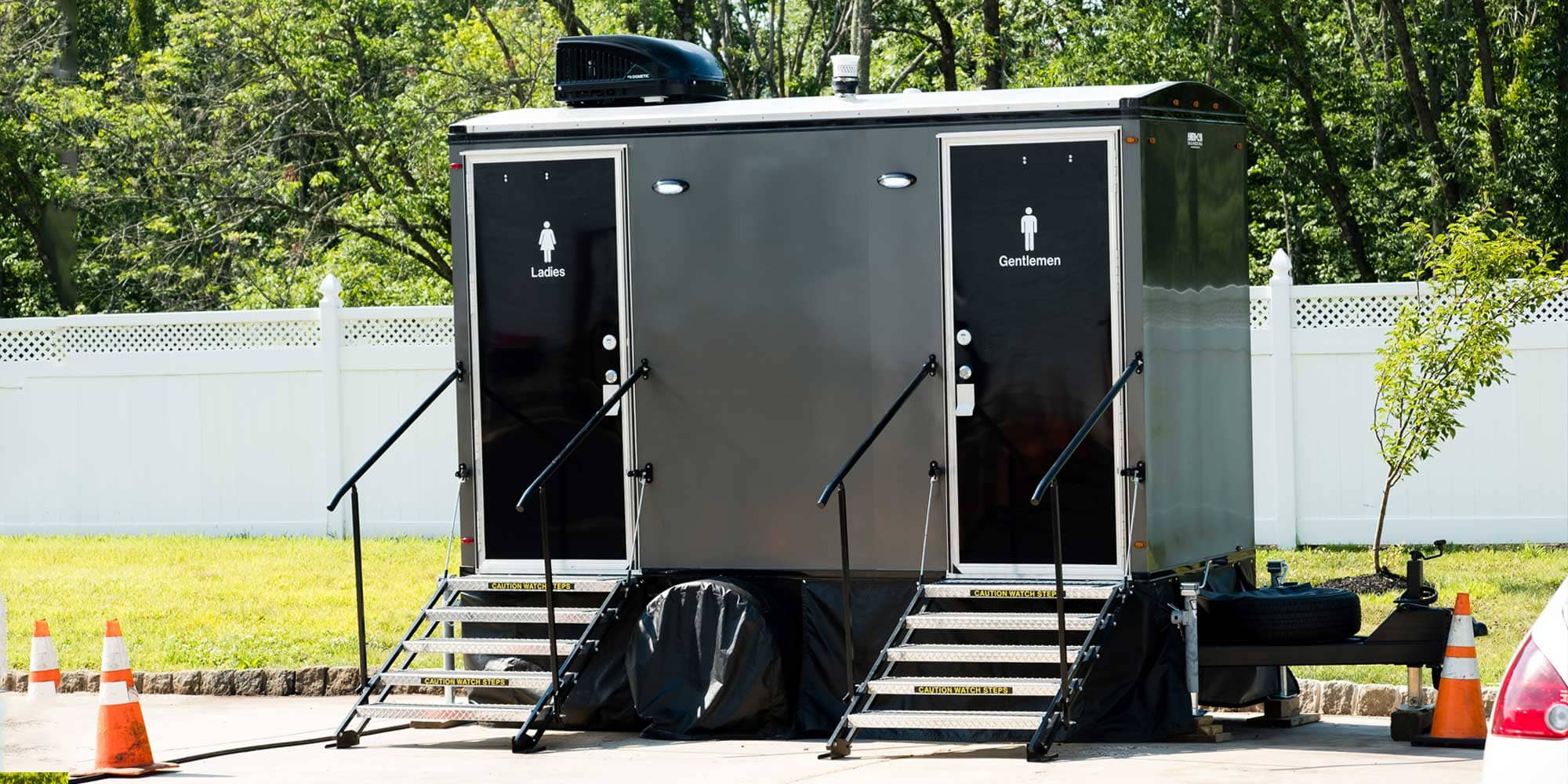 Portable Restroom Trailers With Flushing Toilets
If you're looking for a bit more of an upscale sanitation solution for your event or job site, our restroom trailers might be the right fit. These portable restrooms are equipped with flushable toilets, urinals, full sinks, soap dispensers, trash receptacles, and lighting. A large mirror behind the sinks will give your guests the opportunity to reapply their makeup or straighten up their ties.
Portable restroom trailers can come with two, three, or five stalls. If you're considering a restroom trailer, make sure to note that they are larger than typical flushable porta potties. If there is not ample space for delivery and placement at your site, you may be charged a dry run fee for the driver's time and resources used.
Where Can I Put a Flushable Porta Potty Rental?
You can place flushable porta potties almost anywhere they fit! Our team will deliver your rentals and place them according to your instructions unless they need to suggest a different location for reasons of safety and practicality. For our single-unit flushable porta potties, you'll just need to make sure the ground is level and the surrounding area is both clear and well-lit. Our portable restroom trailers will need more surface area given they are substantially larger and will also need access to running water and electricity. If running water and electricity aren't available at the site, ASAP can provide rental generators and/or water tanks.
If your event or job site is on private property, there are very few instances where you'll need a permit. However, if you're putting a flushable porta potty rental on public land, you may need to contact your local government to obtain a permit.
Our standard rental agreement comes with one weekly servicing, which includes cleaning, restocking, and emptying out your flushable porta potties. We are happy to service your rentals more than once a week at an additional cost.
Though reserving in advance is preferred, most of the time we can accommodate your toilet rental order at only a day's notice, and we'll pick your units back up when your rental period is over. When you're ready to place your order, you can fill out our online form or call us directly at (888) 413-5105. Our experts are also on hand to answer any questions you may have about your site's portable toilet needs. We can help you determine whether flushable porta potties are your best option or if you might benefit more from any of our other rental products.
Find Your Local Pricing & Order Today!