Nothing about renting portable toilets is common knowledge, so don't fret if you don't know where to begin—we can help you fill in the blanks and plan like a pro. You may be wondering, "How much does it even cost for a portable toilet rental? How many portable toilets do I need per person? How do I make sure they don't overflow? How do we keep them clean?" We're here to answer all the questions running through your mind, and even the ones that might not have occurred to you yet.
Renting the Right Number of Portable Toilets
There are a variety of factors to be aware of when determining the ideal number of portable toilet rentals for your site. To plan properly, you'll need to know the answers to the following questions, some of which may require some information gathering to get the ball rolling. The factors that go into planning will vary based on the situation you need to rent portable toilets for.
For all portable toilet rentals:
How many people will be present? For events, be sure to include attendees, staff, and volunteers.
How many days will you need the rentals?
How much space are you able to dedicate to the portable toilet area?
Is it necessary to provide ADA-compliant restroom options?
For events:
Will there be a crew present on site for setup and breakdown before and after the event?
How long will the event run? The longer people are present at your location, the more they'll need to visit the portable restrooms.
Handwashing stations are recommended, especially if you're serving food. Will your stations run hot water, as required by some local codes?
Will you be serving alcohol at your event? Consuming alcoholic beverages makes people need to use the bathroom more frequently.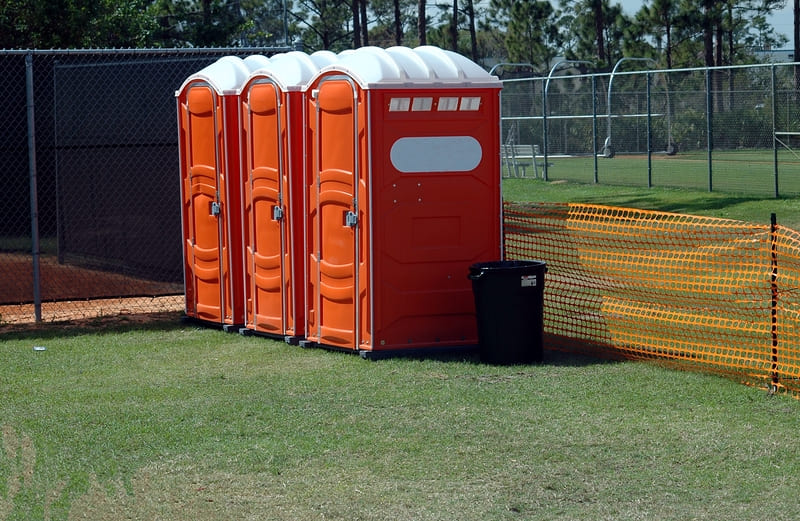 For construction sites:
Do shifts change throughout the day, affecting the number of personnel on-site?
How many hours per week will workers be on site?
Will you require multiple service visits for cleaning?
Do you plan to provide separate facilities for women?
Will workers be congregating in areas more than 200 yards apart? This is one of the factors that determine the placement of your rentals.
Does the city where your site will be require handwashing stations? Whether this is a yes or a no, consider opting for them anyway for the workers' health.
Planning Portable Toilet Rentals for Construction Sites
Figuring out how many portable toilets will best fit your project's needs can depend on a handful of details, but unlike events, the portable toilet count may go up and down throughout the lifetime of the project. For example, when first breaking ground, your site may only require one portable toilet. As momentum builds and the job requires more hands, the number of portable toilets you need could grow to dozens. Your site's porta potty needs will likely wind down again as the project wraps up, allowing you to reduce your number of rentals over time until the job is complete.
Make sure to review OSHA requirements and local/state laws concerning construction sites. Supplying sufficient portable toilet rentals is part of making sure your site is up to code, and it also contributes to efficiency and morale at your site.
Portable Toilet Rental Charts
Once you've determined how many hours your event will last (use the longest day for multiday events) and how many people you expect to be in attendance, use the Event Rentals chart below to find the number of portable toilet rentals you should order. If alcohol will be served at your event, increase that number by 20%. Make sure to order one ADA-accessible porta potty for every 20 portable toilets (or a minimum of one for public events of all sizes) and one handwashing station for every four portable toilets.
Use the Construction Rentals chart to find how many portable toilets you should rent for the size of your workforce and the number of shifts in a standard workweek.
Let ASAP Help
The amount of planning required to rent portable toilets may surprise you if you haven't done it before, but with our help, you'll be an expert in no time. You can check our Portable Toilets FAQ for answers to many of your questions, but for the ones left over, we're just a phone call away. Call us today at (800) 477-0854—one of our team members will be happy to assist you.
Find Your Local Pricing & Order Today!