Convenience Is Key
Your industrial site may be a large factory or an expansive outdoor space. In cases like these, it's important to have restrooms close to your employees to maximize both productivity and efficiency. Our single-unit industrial porta potties are perfect for situations like these—you can fit them into many nooks around your facility, making sure they are not in the way of workers or vehicles.
Single-unit portable toilets for industrial job sites can be dropped off within a day of placing your order, and we'll service them once a week during your rental period by default (you may request additional servicing for a fee). We can help you figure out how many units you need for the number of workers at your site during each shift, as well as how many ADA-accessible industrial porta potties you should have to meet OSHA requirements.
We realize each site is different and may pose unique challenges. If, for example, you need an industrial portable toilet rental on the upper floor, you should order high-rise porta potties. These units are designed for easy transportation from room to room and up and down freight elevators.
To accompany our industrial portable toilet rentals, we highly suggest ordering handwashing stations as well. We offer both portable sinks (with soap) and bulk hand sanitizer, a cost-effective way to make sure your employees can clean their hands every time they use the bathroom. Like our industrial porta potties themselves, all accessories will be restocked with supplies at least once each week.
Another type of product we offer is an industrial portable toilet with a sink inside. These units offer a little extra privacy since one can wash their hands and freshen up without anyone else around them.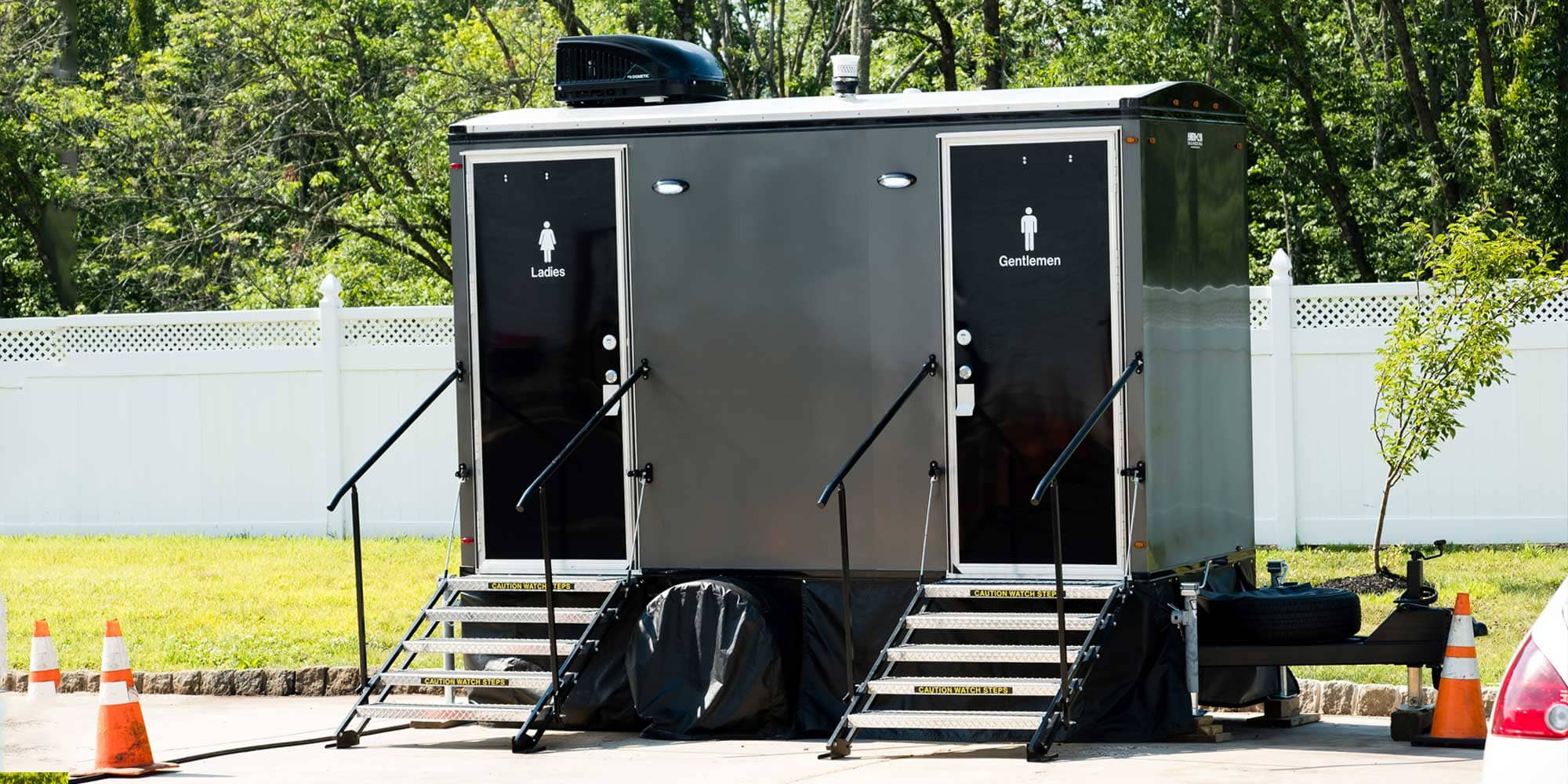 If your site calls for it, we offer portable restroom trailers that resemble full bathrooms. These units are complete with urinals, sinks, flushing toilets, trash receptacles, and lighting. You have the option to rent two-, three-, or five-stall trailers, so you can decide which size may be best for your site. Just keep in mind that restroom trailers take up much more space than your typical industrial porta potties, so feel free to ask us if you're unsure whether your space is large enough to accommodate a trailer.
If your industrial work requires hours of hard labor in a dirty, dusty, or greasy environment, shower trailers are a great touch. You can improve morale at your site by sending your employees home for the night feeling clean and refreshed. A hot shower is a perfect end to a hard day of work. Shower trailers can be connected to your water source, and they include private, lockable shower stalls. Like our other products, these trailers are extremely easy to set up as long as there is ample space on your lot.

Delivery Requirements
Before placing your order, please make sure that your site is prepared to receive your specific rental equipment. All trailers and toilets for industrial job sites need to be placed on a flat surface in a safe and well-lit area, with ample space for service teams to complete their tasks. You likely won't need a permit to put a portable toilet rental on a private industrial site, but you may need permission if your site is on public property, so check in with your local government to make sure you have all your bases covered.
We're excited to provide your job site with unmatched service and quality for your industrial portable toilet rentals. To get your rental order started, please fill out our online form or give us a ring at (888) 413-5105. We are happy to talk through any questions you may have before, during, or even after your rental period.
Find Your Local Pricing & Order Today!