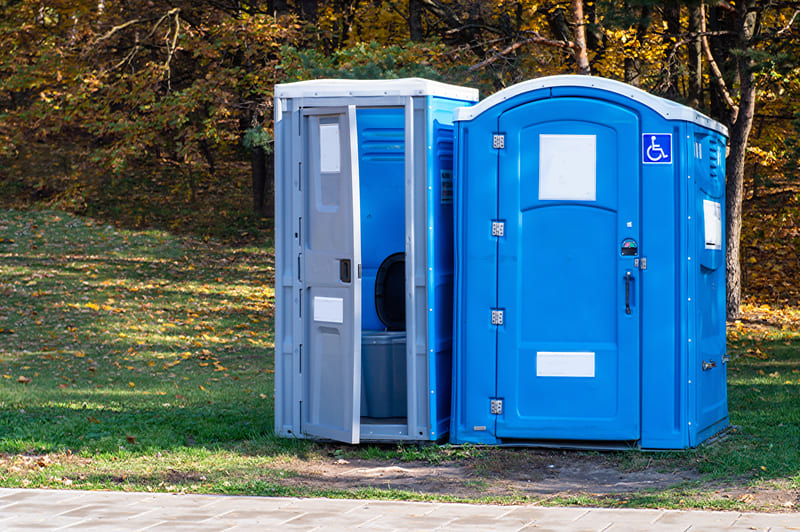 Whether you're throwing a private party, hosting a public fundraiser, or launching a new construction site, there will usually be a need for portable toilet facilities. ASAP Site Services knows each job is different, and that's why we offer five different types of single-unit portable toilet rentals. These rentals are conveniently delivered to your site and picked up whenever you're ready to end your rental period. To find which type of porta potty might be best for your occasion, read through our list below.
Standard Portable Toilet
You've seen them before. The most commonly placed order is for the standard portable toilet. These are a great option if you're looking for the simplest and cheapest way to arrange sanitation facilities at your event or job site.
Flushable Portable Toilet
Similar in appearance to the standard portable restroom, these toilets have the ability to flush into a separate tank. Some guests may be more comfortable using flushable toilet.
Portable Toilet With a Sink
If you don't want to order separate sinks or hand sanitizers along with standard porta potties, these rentals are a one-stop shop. Complete with a sink and soap dispenser inside, these portable toilets offer your guests the convenience of washing up while still inside the bathroom.
High-Rise Portable Toilet
The high-rise single-unit portable toilet rental is extremely popular at, you guessed it, high-rise construction sites. The detachable roof makes it easy to move through doors and hallways or onto elevators to get where workers need a toilet most. This convenient option saves precious time that may otherwise be spent going up and down several flights of stairs.
ADA-Accessible Portable Toilet
Our ADA-accessible porta potties are built to ensure the easiest use for anyone who is physically unable to use the standard toilets. We always recommend having at least one on site for any public event.
All of these portable toilet rentals come with one weekly servicing—however, you can request extra servicing for an additional fee. We are also happy to guide you through your order. We've done it all, so one of our experts can talk you through how many restrooms you might need and which models may work best. We may also recommend a restroom trailer, which might be more suitable if you're looking for something that more closely resembles a full bathroom. Give us a call, or if you already know what your site needs, order online to secure your rentals as soon as possible.
Don't be caught without proper facilities at your next event or construction site. There's no peace of mind like no bathroom line.